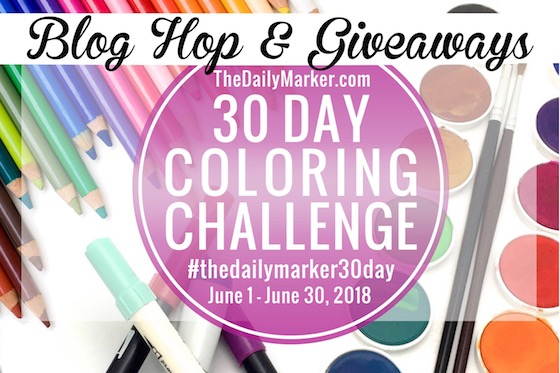 Hey everyone! We are so excited to join in The 30 Day Coloring Challenge Blog Hop!  This is Day one of a two day hop to celebrate the tenth 30 Day Coloring Challenge. Have you heard of "The Daily Marker's 30 Day Coloring Challenge" hosted by Kathy Racoosin? Right now it's in the middle of the challenge and it's a great time to take a leap, jump in and get your feet wet!  Don't feel like you are jumping into the middle of the challenge I hope you will think of it as a new beginning.
The premise of "The Daily Marker 30 Day Coloring Challenge" is to color something everyday even if it's for five minutes. However feel free to  jump in or out as time permits.
Any coloring medium is welcomed. Click here for DAY 1. TO UPLOAD YOUR COLORING  or here on Instagramor here on Facebook (FB is a closed group). Please remember to use the hashtag #thedailymarker30day  and tag @kathyrac . For kids & young adults #thedailymarker30daykids
For the challenge I have been coloring our new summer release stamp sets. I have been using the Spectrum Noir alcohol markers, and having so much fun with bright and vibrant colors. These are the new 'Turtley Amazing' and 'Mermazing Coffee' sets that are available here.
We are excited to offer a prize for the hop. To enter to win a $25 gift certificate to the Pink and Main website, simply leave us a comment below this post. We will choose a random winner on July 2nd.
Enjoy the hop and be sure to join in the coloring challenge! Here is the awesome blog hop lineup…