Welcome to the 4th Annual Handmade Holidays Blog Hop! A few years ago we were looking online for handmade gift ideas and thought it would be great if there was a resource dedicated JUST to handmade gift ideas. Enter the Handmade Holidays hop! We've gathered over 100 of our creative blogger friends in the craft industry as well as some of our fellow product manufacturers to bring you a plethora of inspiring gift ideas you can make now to give to your friends, family, and colleagues. Pin and bookmark these ideas for this holiday season and to use throughout the year! Each day of the hop features approximately 30 gift projects and you can "hop" from one blog to another to check them all out.
My handmade gift for the hop is a multi-window frame that I found at a local craft store. I made this for my parents and hope they will love it. This makes a wonderful gift for anyone, and helps to share and preserve those special moments. Here is the unfinished frame: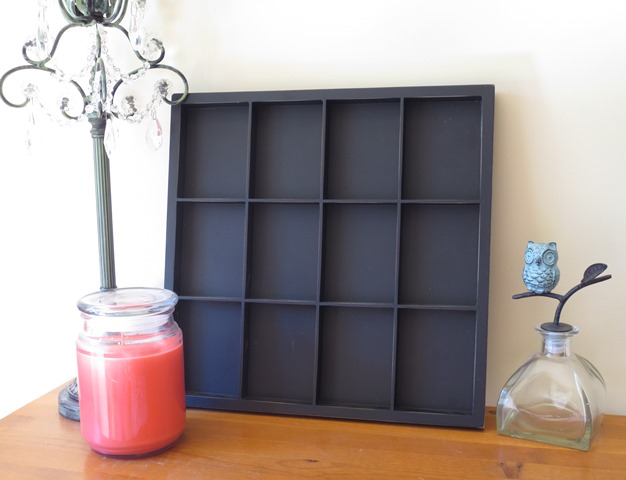 The frame measures just over 12 inches square and the inside windows measure 3 by 4 inches. I started by choosing the photos I wanted to include, but you could also leave some windows blank for the recipient to choose their photos. I then chose the color scheme and printed my photos in black and white to go along with the overall look.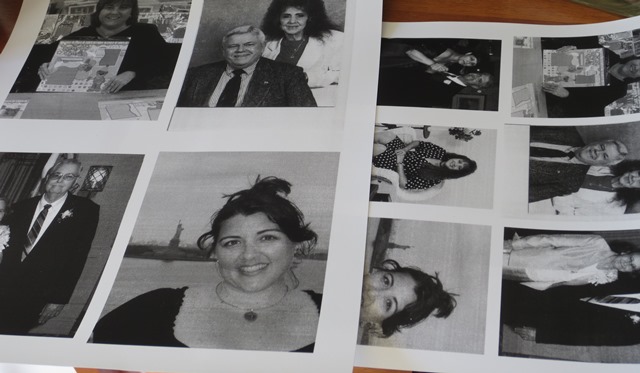 I went with gold, brown, black, and white for my colors. I then went through my stash of supplies and pulled some papers I thought would work along with tons of coordinating embellishments. I am the type of person that needs to see everything around me, or else I will forget about it and not use it. Here's a photo of the papers I used: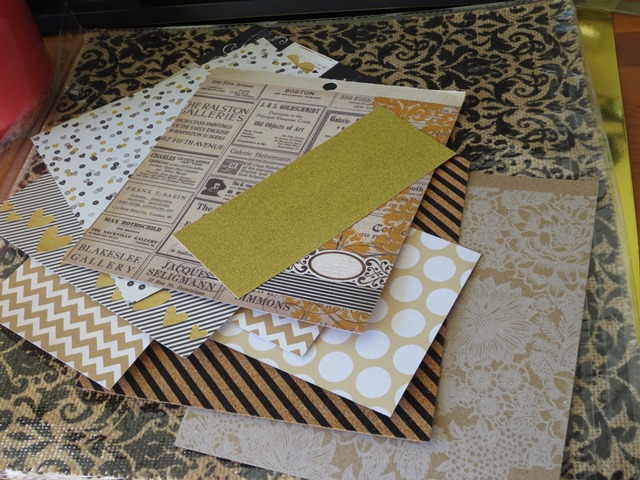 I wanted my photos to 'pop', so I layered them on gold glitter paper and added different embellishments to each.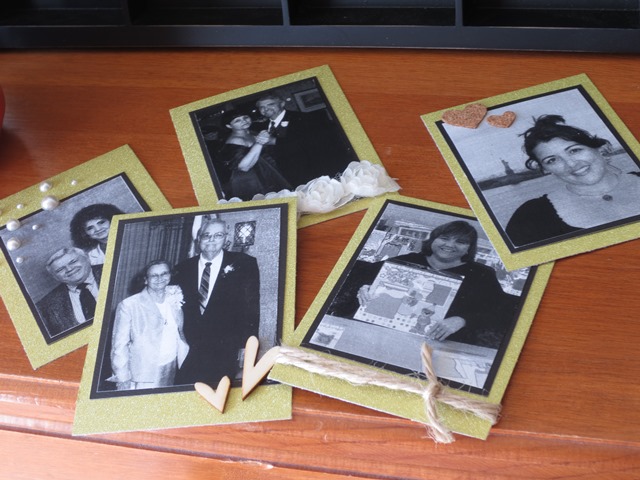 Next, I placed them as I wanted in the frame. This way I could visualize what cards to put around them.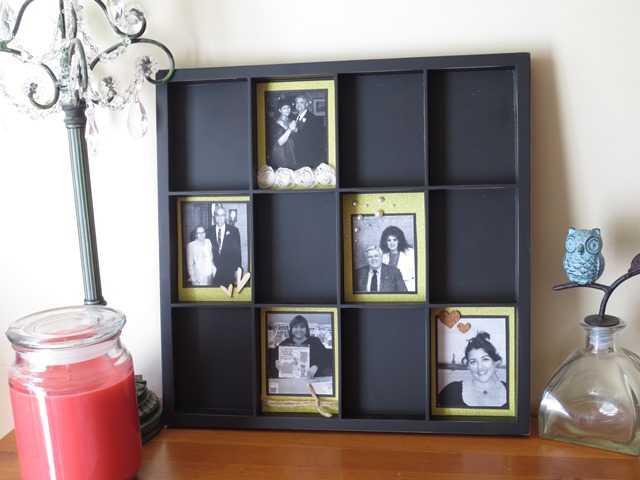 The next part took the longest, but if you take it one card at a time, it will flow smoothly. I cut the papers I wanted to use into 3 by 4 inch pieces and put them aside. Then I took one by one and started to embellish and design them. On this first card, I simply added a doily, a cute phrase from one of my papers, and some enamel dots.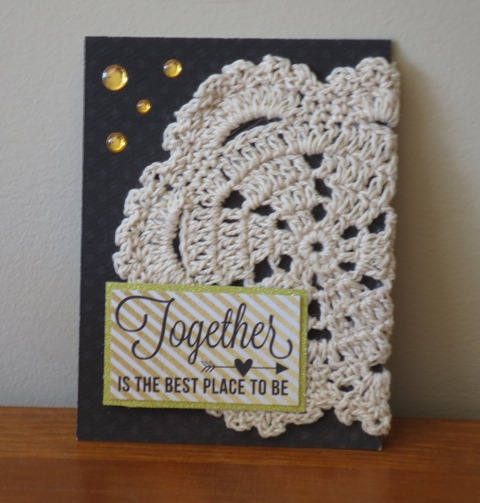 For the second card, I added some burlap ribbon down the center with a flag cut at the end. I then took some wooden shape pieces and colored them with my Colorbox black pigment ink pad. I thought they looked better in black against the gold-tone card and ribbon.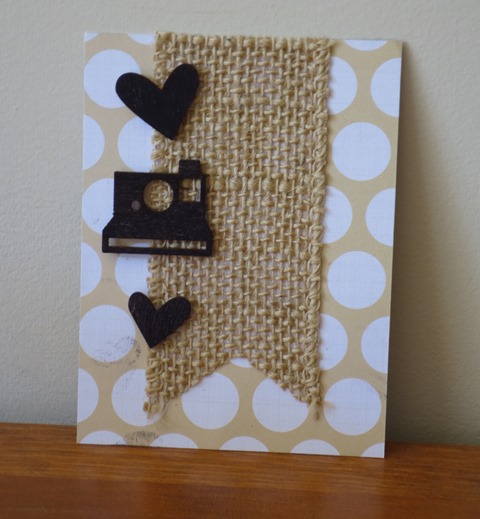 I used my stamp sets, 'Bubbly Card Borders' and 'Selfie' to embellish the third card. The borders didn't stamp perfectly because of the design on the paper, but I liked how distressed it looked. I also added a burlap flower to this card.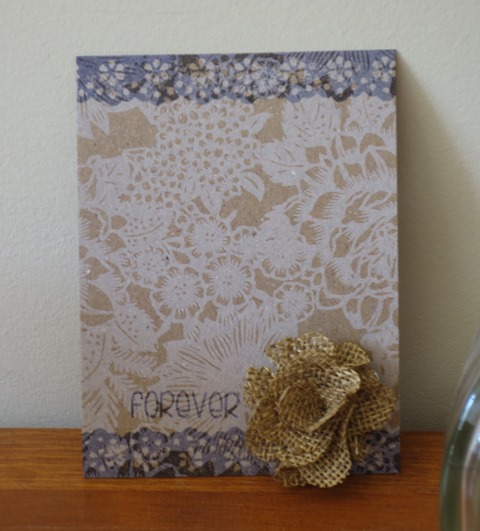 The fourth card had the gold hearts across the bottom, and I added some lacquer to them to make them shine. I also stamped a frame with a stamp from 'Stitched Greetings' and cut it out with my Westcott scissors. I then stamped the word "love" using my 'Tab Alpha' stamps. I then used some foam tape to add the saying to the card and give it some dimension. I also added a wooden heart along the bottom for interest.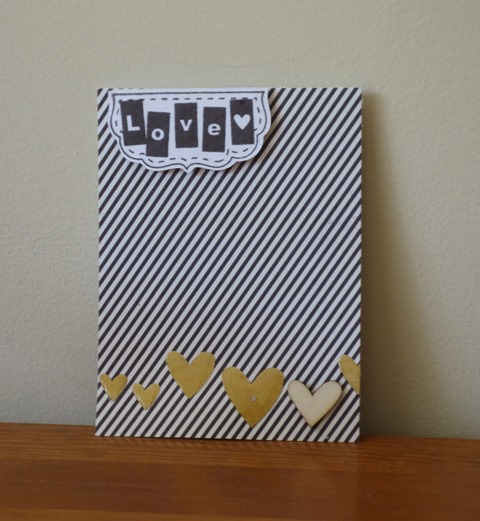 This next card is made from some printed cork paper and I thought it was just too fun! I used the 'Chevys' stamp set to create some geometric chevron shapes along the side of the card, and then added some of the enamel dots for interest and a little shine. I used the Colorbox Black Pigment Ink Pad by Clearsnap for all my stamping. I just love the smooth and rich coverage I get with this ink.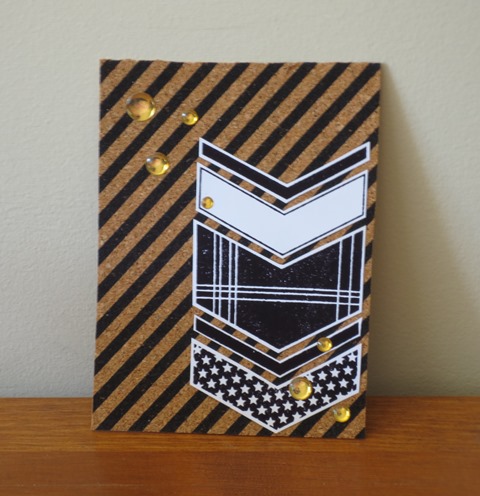 I think this next card is my favorite. I just love this saying from the 'Thankful' stamp set, and you can use it for so many occasions. I stamped it and layered it across the card, then I just added a feather charm with some twine. I tied a knot and simply glued the knot to the card.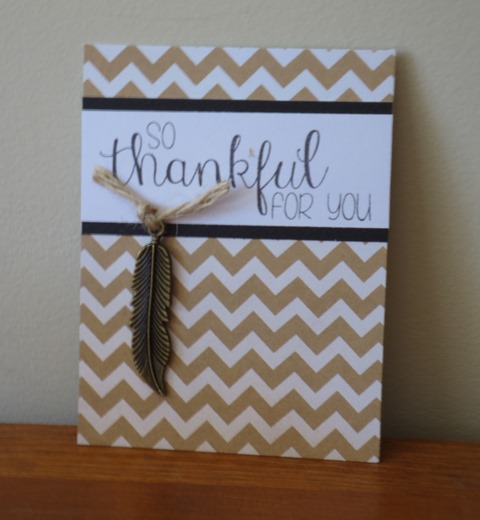 The last card for the frame is cut from some printed burlap. As you can see, I have added lots of textures to this frame. This adds variety and dimension to the project as well as giving the eye different points to focus on. I added some glitter trim along the side and stamped some cute arrows from the 'Noted' stamp set.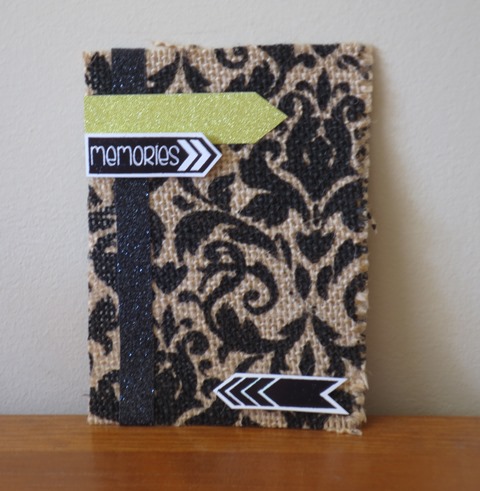 I wanted to add another fun element to this frame, so I made my very own charm! You will not believe how easy it was to make either. I found a cute phrase and cut it to fit in the round bezel by Ice Resin. I then added the resin to the bezel and let it set overnight. The resin comes in a double-plunger and all you have to do is dispense the two fluids into a craft cup and mix it, then simply pour it into your project. I had a few bubbles, but found they had disappeared as it hardened. Here's a picture of the resin and bezel, along with the adhesive by Scrapbook Adhesives by 3L that I used throughout the project.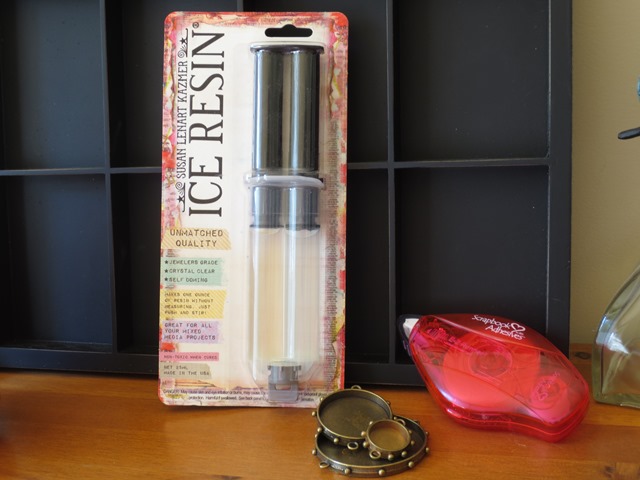 And here is the adorable charm that I glued onto the frame.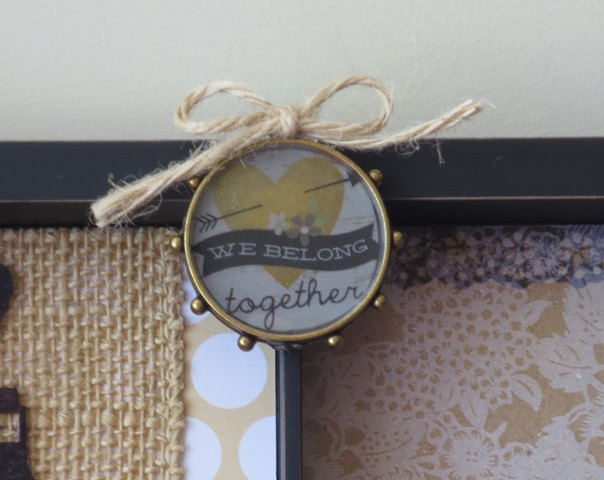 Finally, I organized the cards and photos inside the windows in the frame. Once I was happy with their order, I adhered them in. This is my gift frame, and I hope it will inspire you to give a handmade photo frame to your loved ones so they will always have some memories to gaze upon.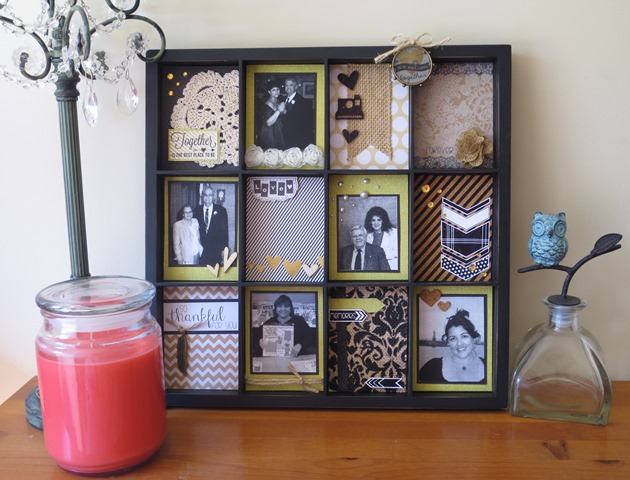 Are you ready for lots more creative handmade gift ideas and projects??
Follow along on our blog hop! Simply click on each of the links below to be taken to that post with additional information and photos on how to create a handmade gift project. Have fun and pin away!
Pink and Main (you are here)
Cookies for Breakfast- Beth Pingry 
Cupcakes and Crinoline – Mary Beth Sharkey 
Elizabeth Craft Designs – Frances Byrne
Lazy Mom's – Joanna Grzeszczak
Homemade Ginger – Megan Kapple
Scrapbook Adhesives by 3L – Asia King
Ellison Educational Equipment – Anna-Karin Evaldsson
The Buckle Boutique – Stephanie Nericcio
Modern Surrealist – Marisa Pawelko
A Little Craft In Your Day – Tanner Bell 
Artsy Findings – Cheryl Waters
Follow our Handmade Holidays Gift Ideas Pinterest board for even more inspiration!
Follow Jennifer Priest of RainMaker Media Works + Hydrangea Hippo's board Handmade Holidays on Pinterest.
A huge thank you to our sponsors for this hop – please visit their blogs below and follow them. And be sure to come back tomorrow for another 30+ amazing Handmade Gift Ideas!
Clearsnap || Ellison Educational Equipment || Walnut Hollow || Graphic45 || Westcott || ICE Resin || Therm O Web || Rowland Industries || Scrapbook Adhesives by 3L || Pink and Main || Elizabeth Craft Designs || The Buckle Boutique || Neat and Tangled
Additional Sponsorship provided to bloggers by:
Sakura || Fairfield Processing