Hello! It's Donna here. As I type this, I'm sitting at the window in Japan, waiting for it to snow. For so many people, snow is a real pain, but as an Australian I've hardly ever seen it, so I'm excited at the prospect. So far, the day has been disappointing, given how certain the weather forecast was!
So, in order to either a) counteract the grey weather, or b) match my sunny mood, depending on how you look at it, I've made a really colourful card today to share with you.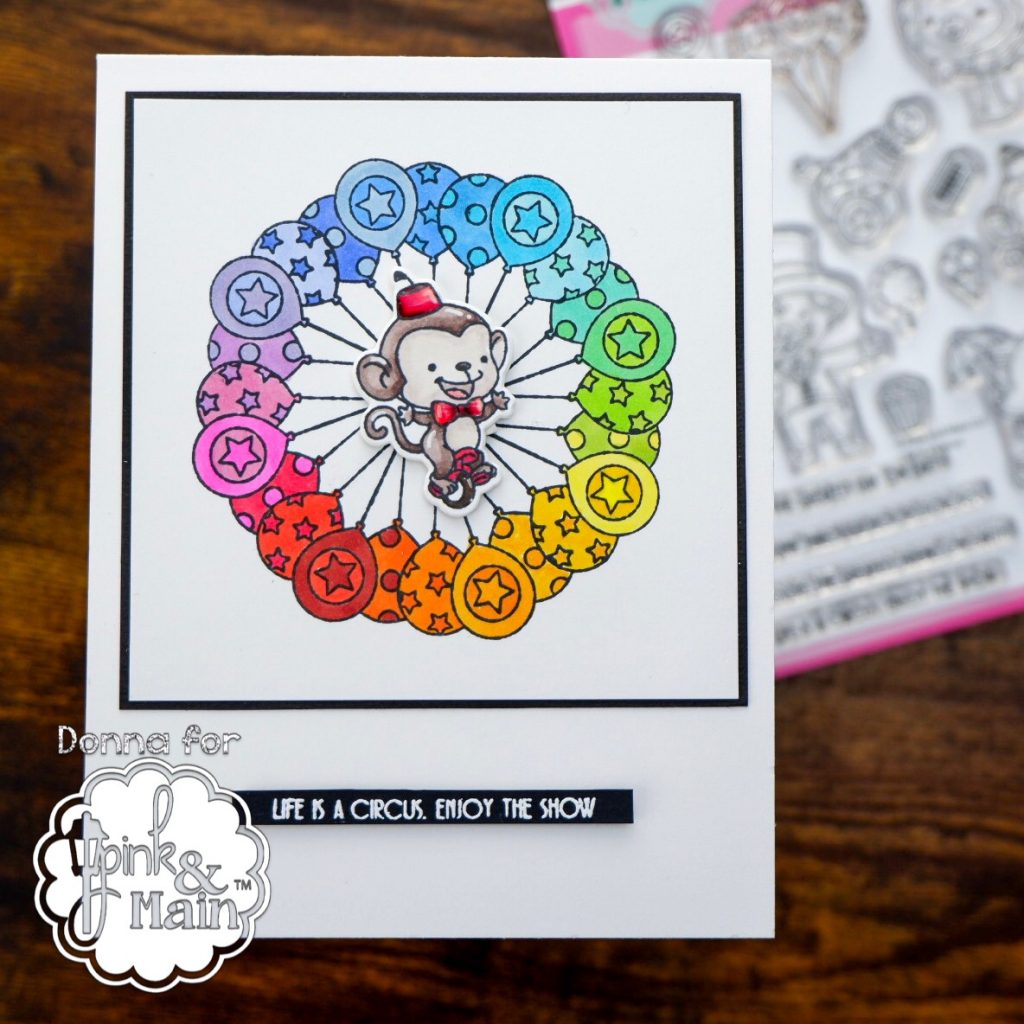 The colourful rainbow of balloons was made using the balloons from the Life is a Circus stamp set. I used a wreath maker stencil, and masked off the balloons that would overlap every time I turned the stencil.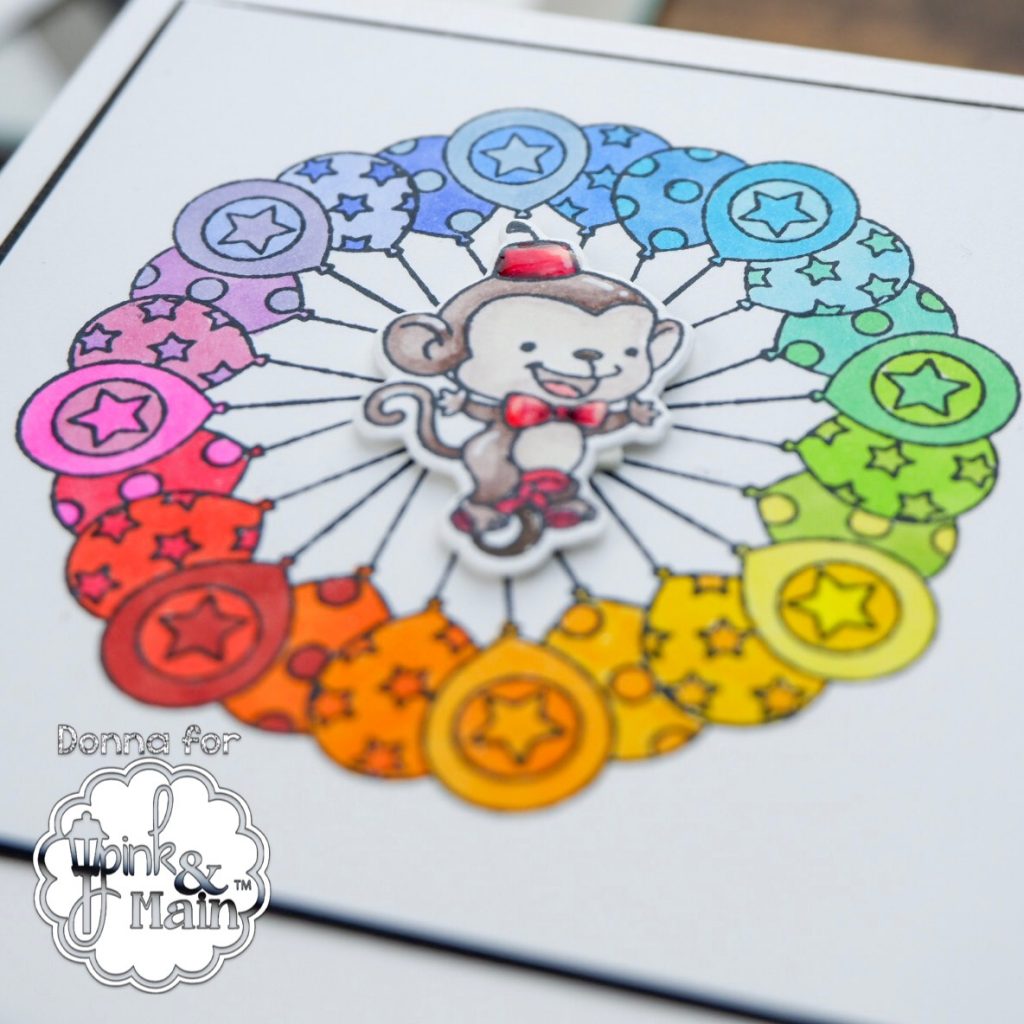 Once I had a circle of balloons, I coloured them using my Copic Markers. I had a small colour wheel that I had made for my watercolouring and I used that as a guide to make sure I didn't stick on one colour too long, or move around the rainbow too fast. I didn't do any shading, but I used each marker twice. Once as the main colour, and then I moved anticlockwise and used the same marker to colour the pattern. This helped with the flow from colour to colour.
Next, I chose a central image. This monkey was just the right size for the centre of my balloon rainbow. I coloured the monkey very simply, so that the balloons would remain the focal point of the card. I added just a touch of red for his tie, fez and bicycle. I then cut him out using the matching die, and added some gel pen and glossy accents to the image.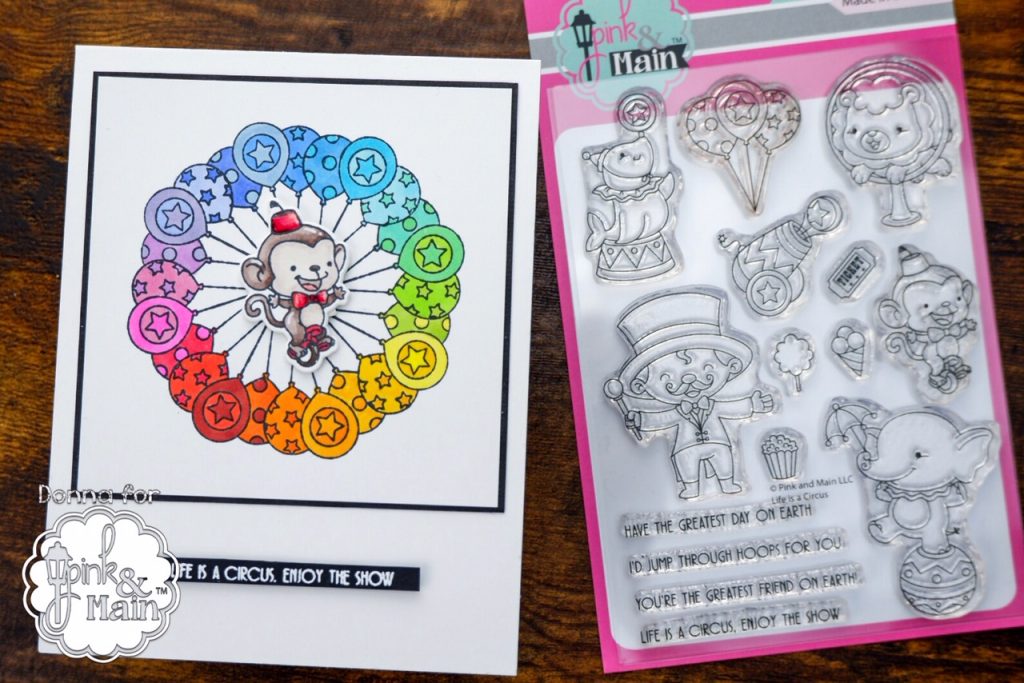 As you can see in the image above, this set has several different punny sentiments. I am a huge fan of very thin sentiments, so I love these. I white heat embossed "Life is a Circus. Enjoy the Show." in white onto black card stock. I also used black card stock to back my balloon image, leaving just a thin margin so that the overall card still read as white. I used some foam tape to pop everything up and the card was complete.
DooHopefully this card has brightened your day.
Until next time, may your days be full of rainbows.
Blessings,