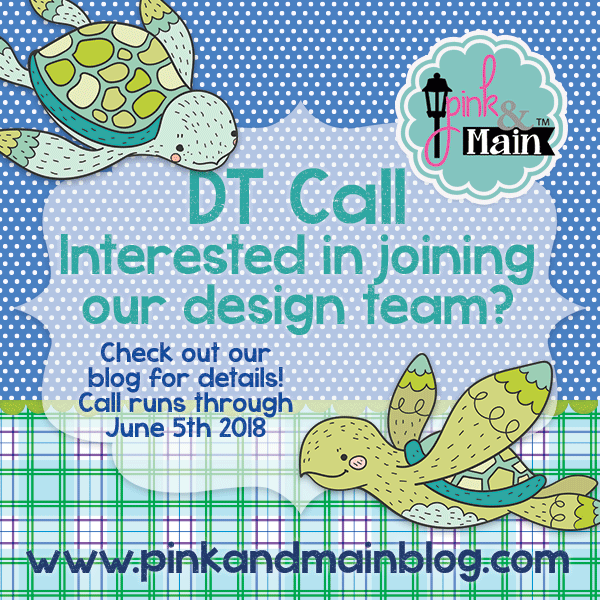 Pink and Main Design Team Call
We are looking to add to our design team! We have a fun team that is drama-free and loves to encourage each other. We are taking submissions through June 5th. Please read the guidelines below and let us know if you have any further questions.
Guidelines and expectations:
– DT term is from July 1 – December 31 2018 (with the possibility of extension)
– Create at least 4 projects per month, along with the occasional project for a collaboration with another company
– We will request to have finished projects sent to us for use at shows and for retail partners.
– Be able to draft blog posts in WordPress, with short step by step tutorials.
– Have the ability to take great photos that use proper lighting and appropriate props (Your project should always be the focus of your photo)
– Have active social media accounts to post your projects as well as promote the happenings at Pink and Main (Instagram, Facebook and a blog are best)
– Use only Pink and Main products on your products unless specific permission is given, or we are in collaboration with another company.
– Ability to engage with the team and myself in our private Facebook group.
– We are looking for a couple of people to help with videos for Youtube, so please let me know if you are interest in that
What you can expect:
– You will receive each release, the entire release. Products may include stamps, dies, patterned paper, ink pads, Glossy Dots… and more secret-for-now items!
– You will receive a generous discount to add more Pink and Main items to your collection
– You will occasionally receive items from other companies when we do collaborations
– We have an affiliate program you can sign up for
– You will receive bonuses occasionally for going above and beyond when promoting Pink and Main
How to apply:
– Submit your desire to join the team via email to pinkandmain@gmail.com by June 5th, 2018.
– Tell us who you are and why you want to join our team.
– Send us at least 3, no more than 6 images, of your favorite paper craft projects.
– Give us your active social media and blog accounts and let us know if you are interested in doing videos
The call is open to everyone, everywhere! 🙂
We will email all applicants by June 11th with results.