Hi,
I prepared for you short series about colouring stamps. In each part I will show you possibilities of colouring. I am not big artist but I am colouring many stamps with different colours so I decided to share with you my opinions and tips. All opinions are just my personal you can feel it different and this is just OK.
All stamped images are unicorns from new coming stamp set 🙂
The first thing is to choose right paper, for alcohol markers some good quality smooth paper (great is original from Copic or there is brand new paper from CANSON made for alcohol markers and this paper is really awesome, colour cannot bleed through this paper, it is smooth and you can blend colour really well on it )  and for watercoloring some quite heavy watercolour paper, I like more heavier papers because it really holds pigment well and if you are beginner as I am when you re-do your colouring heavy paper is better it is more stabile when you take off and take on more layers of watercolours.
The second thing in colouring is stamping and that is really very important to choose correct ink!!! Permanent ink – as StazOn, Versa mark (onyx black for example), Archival ink – for all colouring on water base (watercolours, watercolour pencils, Oil pastels, Distress crayons, Gelatos …) and Memento (tuxedo black) ink for example for alcohol based colouring (Copics, Promarkers, Spectrum noir markers ….) another.  There are of course more inks in USA but  these which I mentioned above are the most common by us in Europe.
Watercolour pencils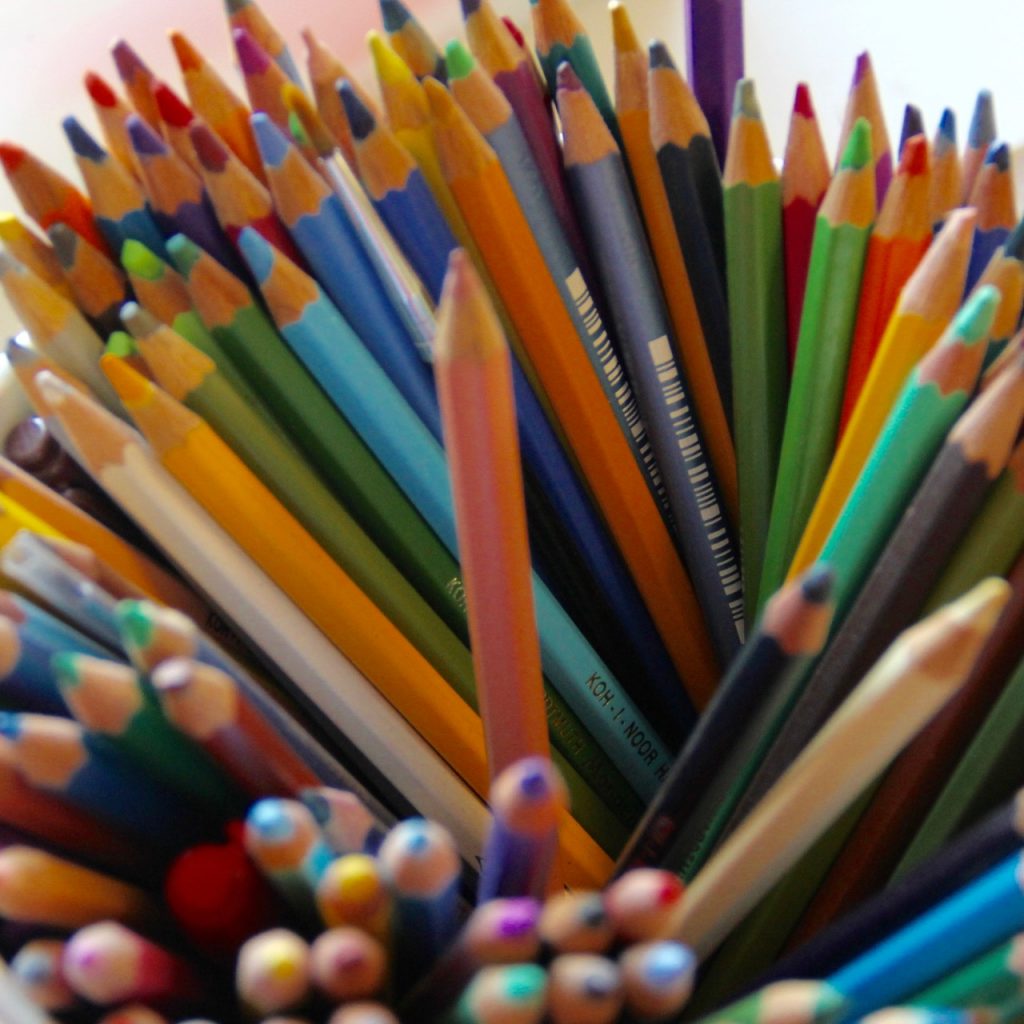 Watercolour pencils are really my favourite. In pencil is water reactive pigment so when you colour and than touch coloured part with water it will react. There are many different brands on the market, I work with just very basic (Faber-Castell or Koh-i-noor) I do not have any fancy watercolour pencils and for my stamp colouring basic are these  just OK.
So you can apply colour over whole stamped image or just partly and than move it with water. I use very often water brush (Zig, or Prima …) but when I need more control over water it is better to use just simple brush.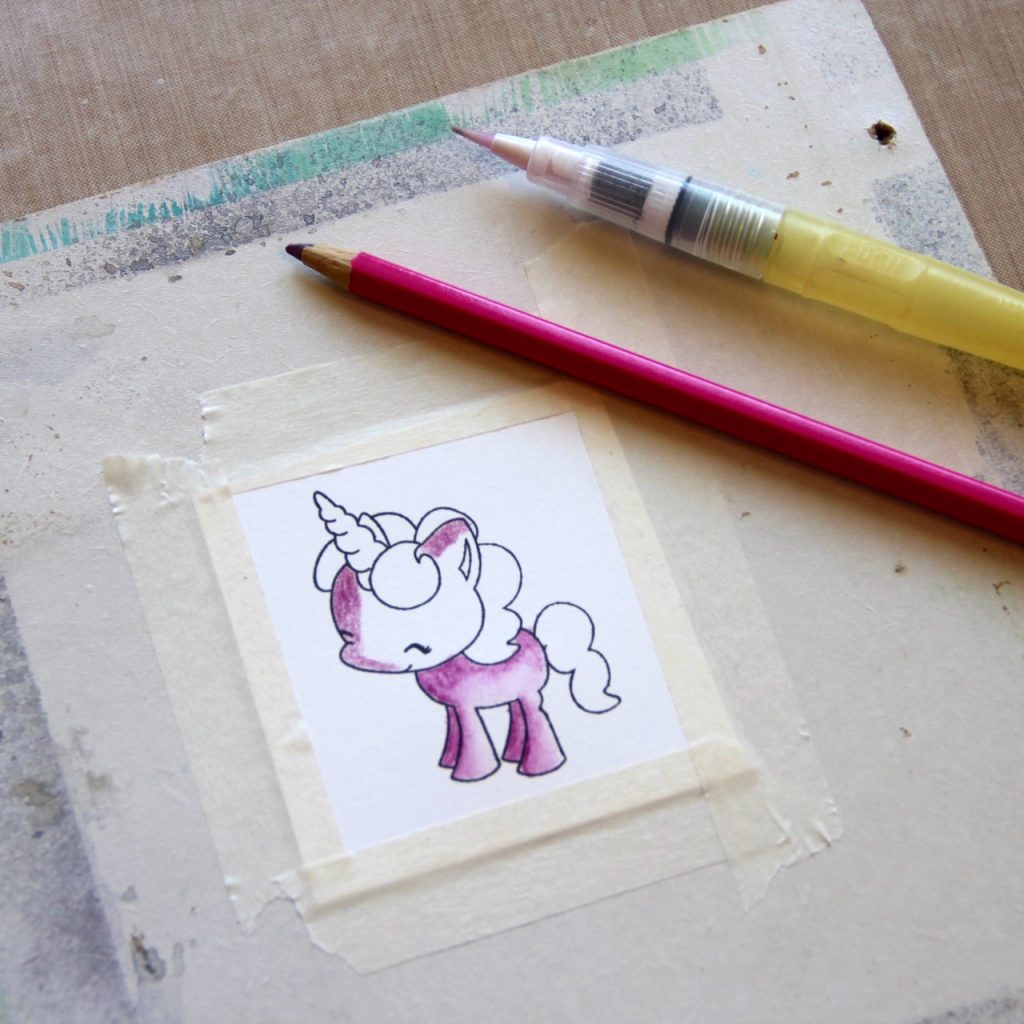 You can also just scribble pencil on scrap paper, apply little bit water and than take colour from that scrap paper. I usually do it when I need really light image. When I need to have less pigment.
Or another possibility is take pigment straight from pencil, tip to tip. I take colour from pencil tip with basic brush with less water on it. Mainly when I want to add more darkness or shadow and my image is already so wet that it is better not to touch image  with pencil.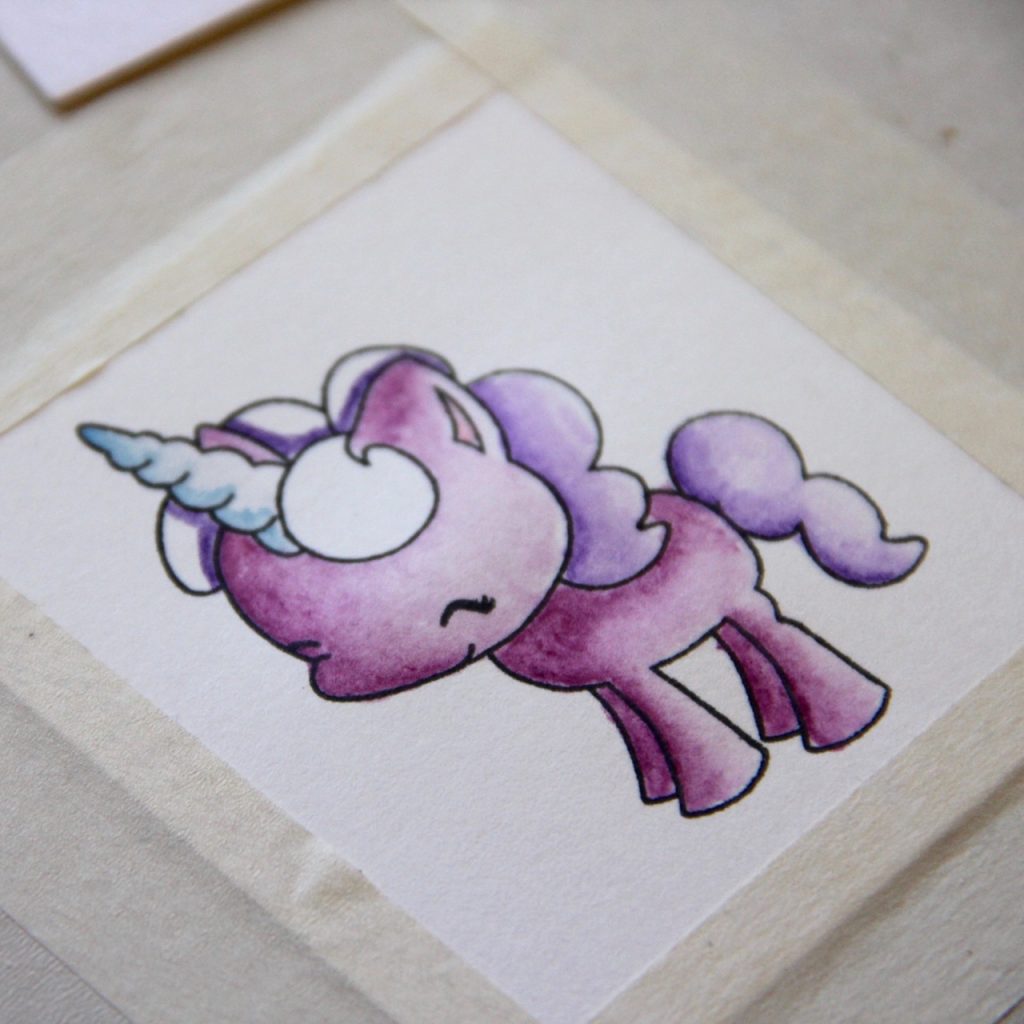 I think that watercolour pencils are really great for all beginners. For people who do not want to invest into alcohol markers, for people who are beginners in watercoloring. I really recommend any watercolour pencils. And than you will see what to try next.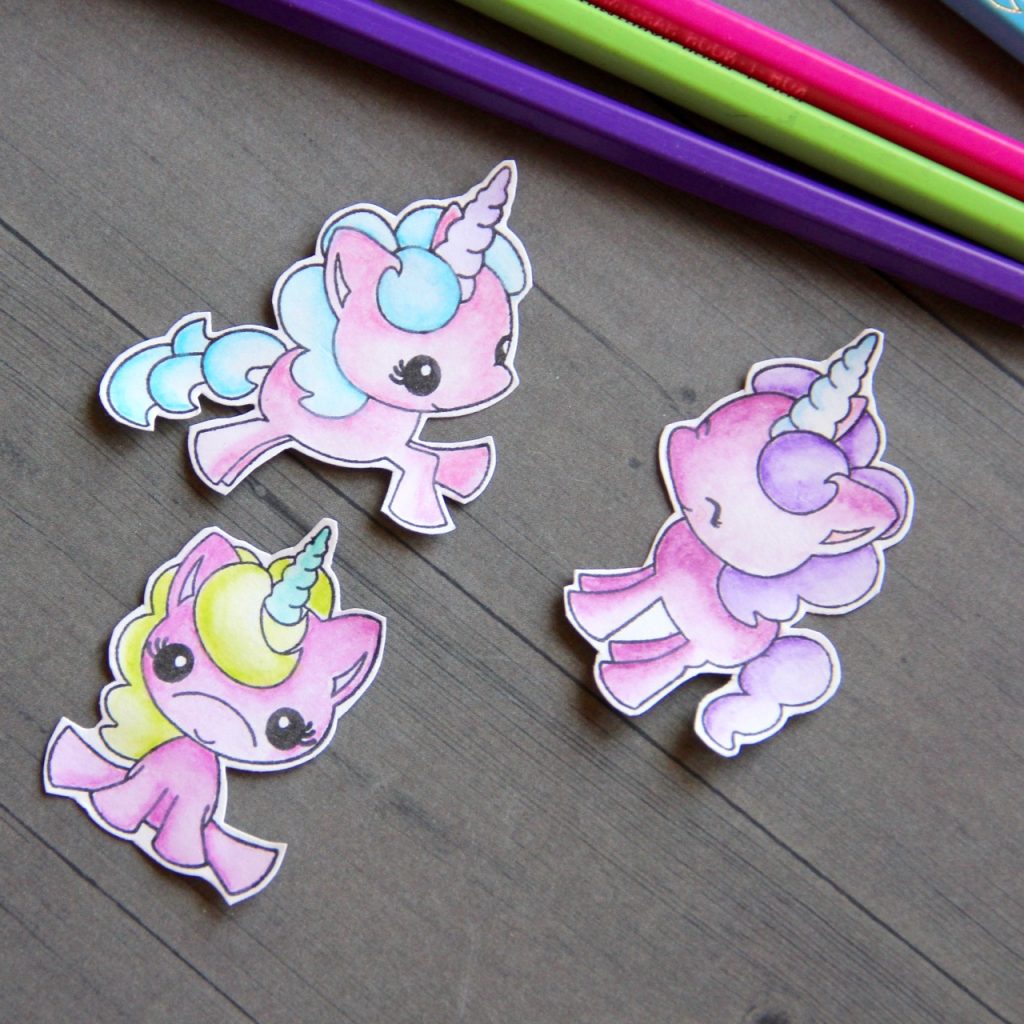 Here are some details.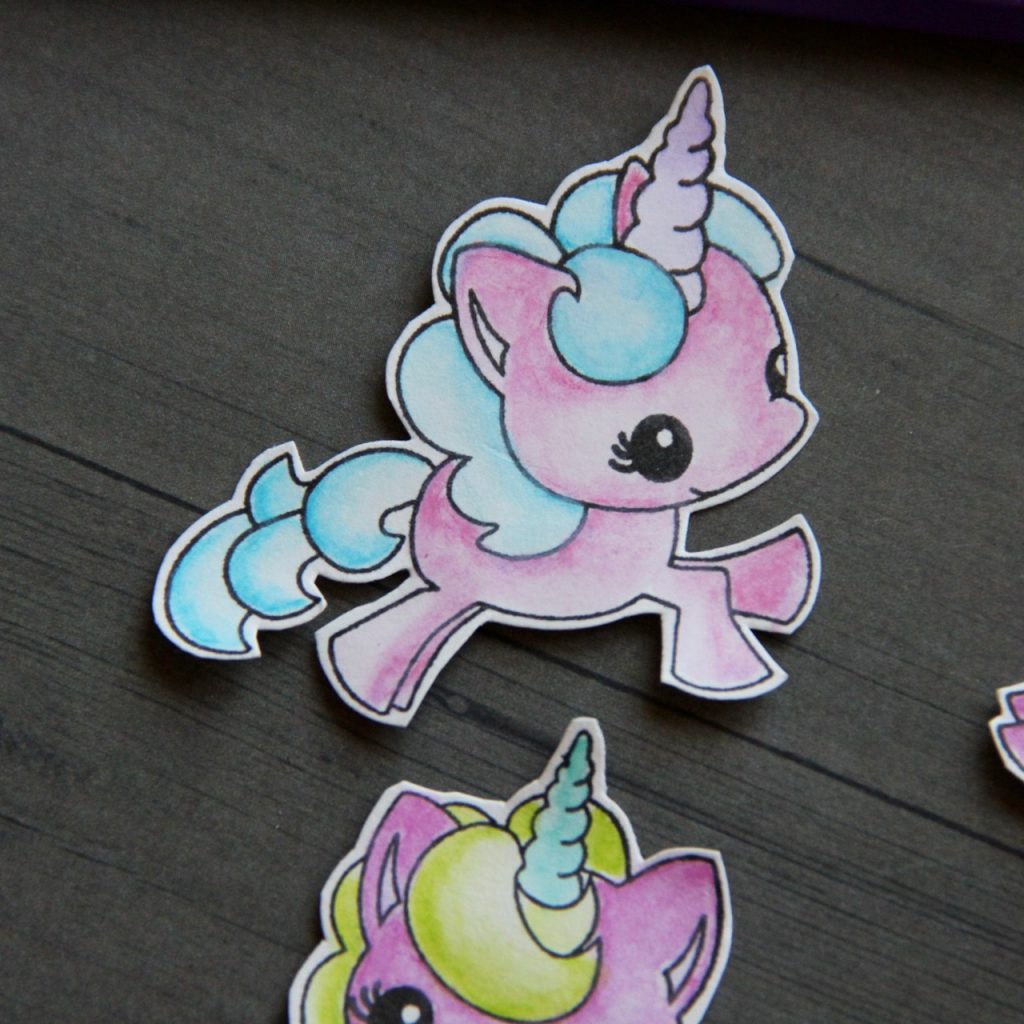 As you can see I can make really good shadowing with my basic pencils and my basic skills.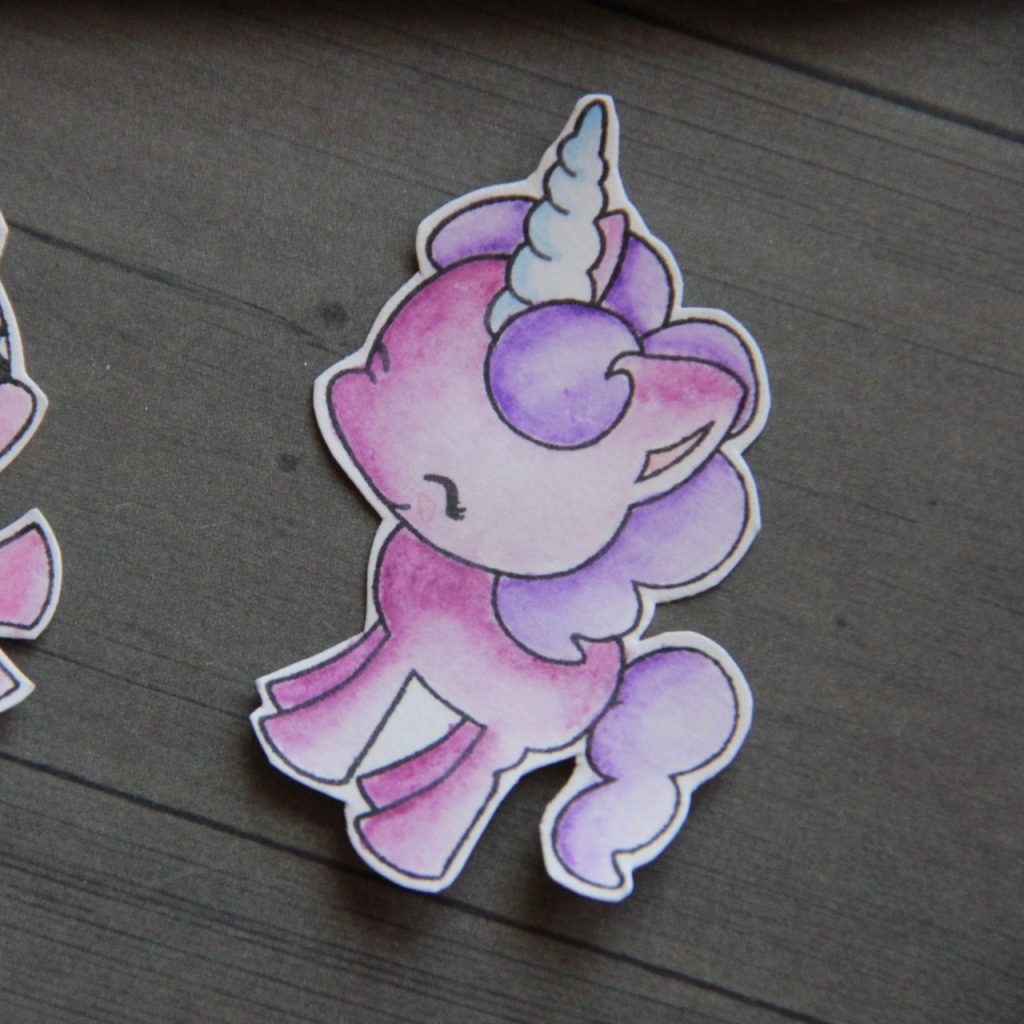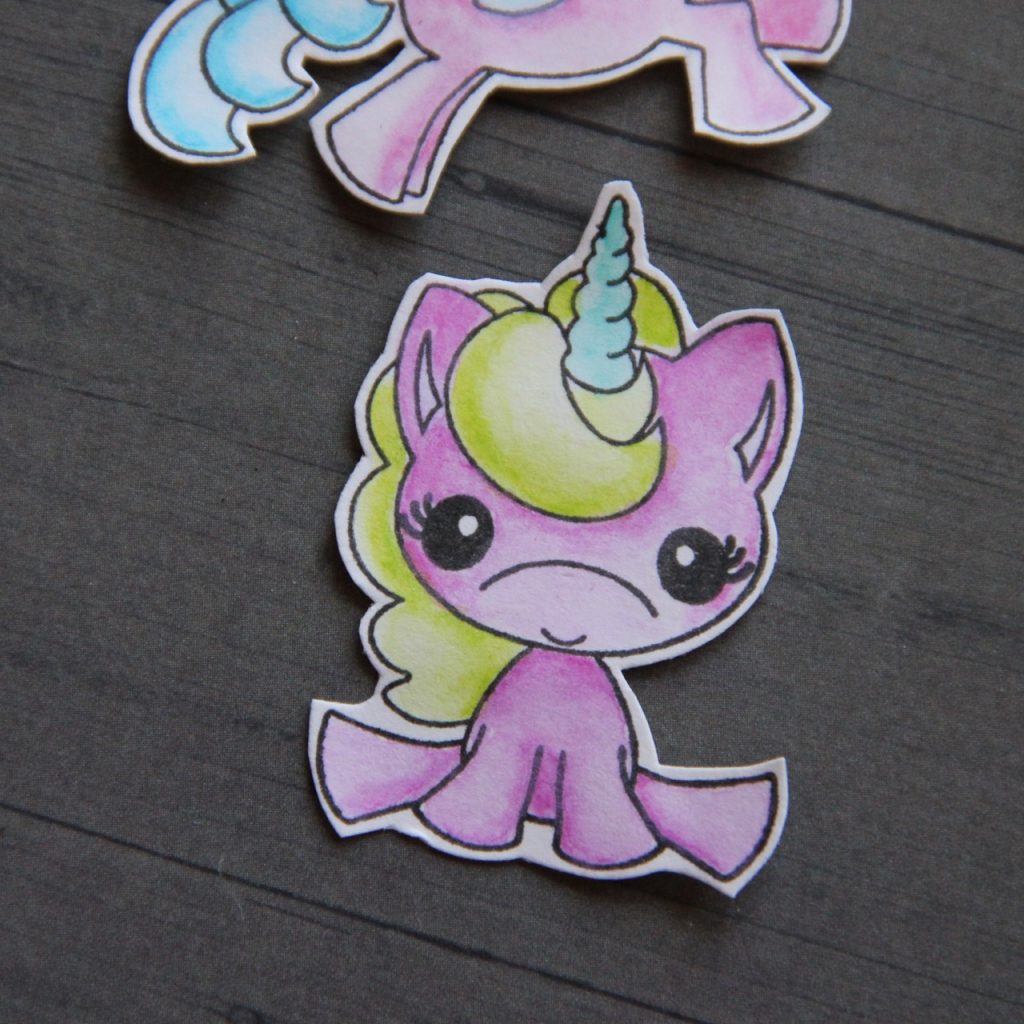 Watercolours
Recently I bought Kuretake Gansai Tambi watercolours, the biggest set and I can really recommend this watercolours to you. It is awesome set with highly pigmented colours. Before Gansai Tambi I worked with cheap one and now I can see big difference. So here it is really different choose good quality watercolours because you will see difference really good. When you look over internet or Youtube you can find many watercolour comparison. I do not have any experience with artist watercolours so I will speak about mine.
In mine set are 36 colours, there is also silver, gold and cooper, really cool metalics. And very good white with really strong pigment.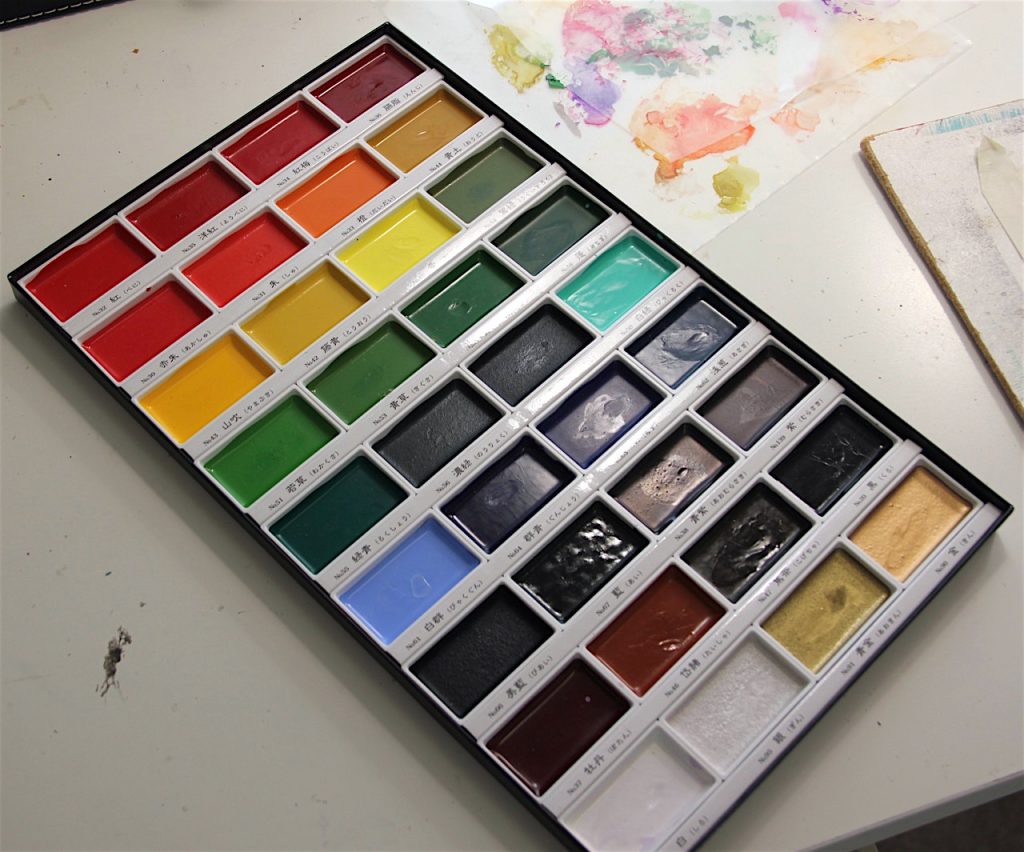 Before you start with colouring make swatch book, it is really handy tool. I wanted to have funny swatch book so I stamped stains (Pink and Main image) and coloured them. Than I added just number of each colour. I know you cannot see good shading of colours but I need mainly to see how my colour looks like.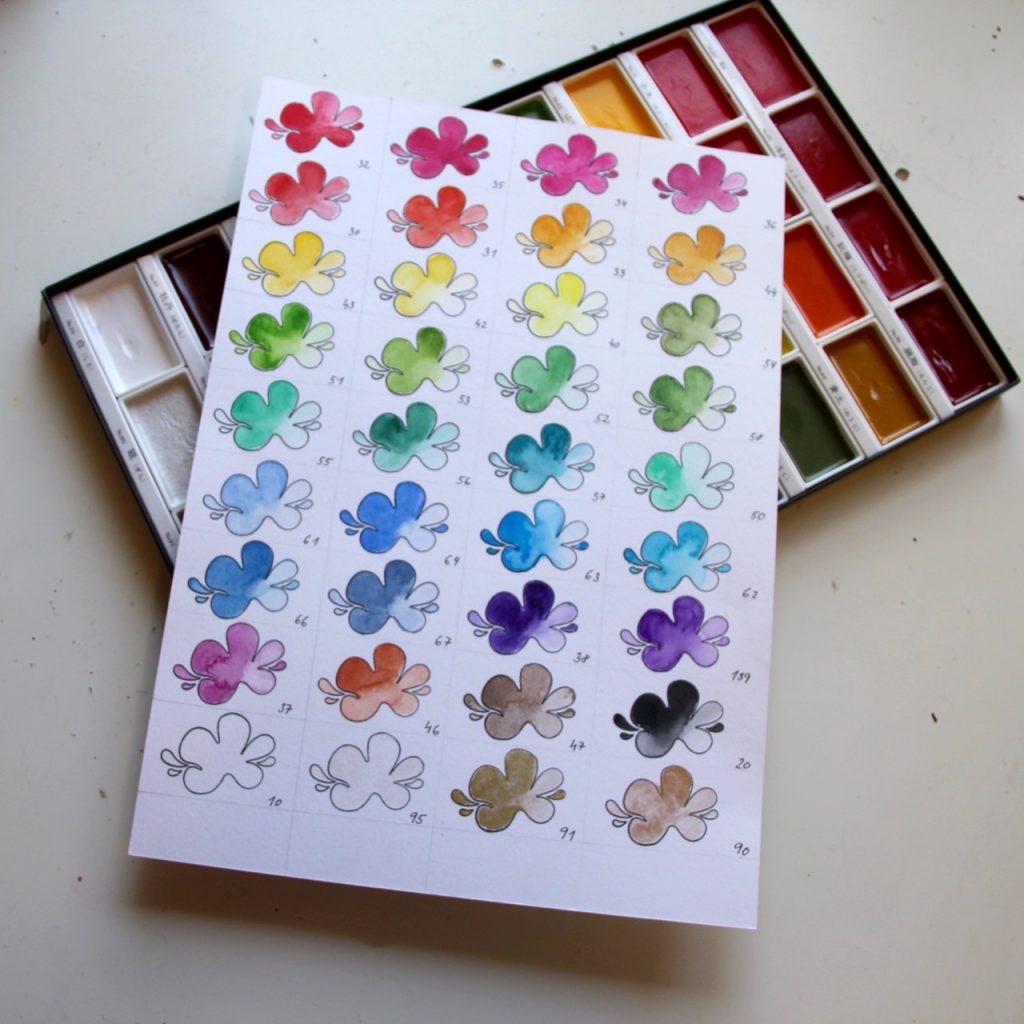 When I work with watercolours I usually mix my colours on some scrap of plastics, I really need to buy some mixing palette I know. So for watercoloring you can take pigment on wet brush off the box and mix it outside or take it straight from box.
Important is to have good quality brush, brush for watercoloring hold water better. Again there are tons of brushes on market just ask in your craft store and they give you advice.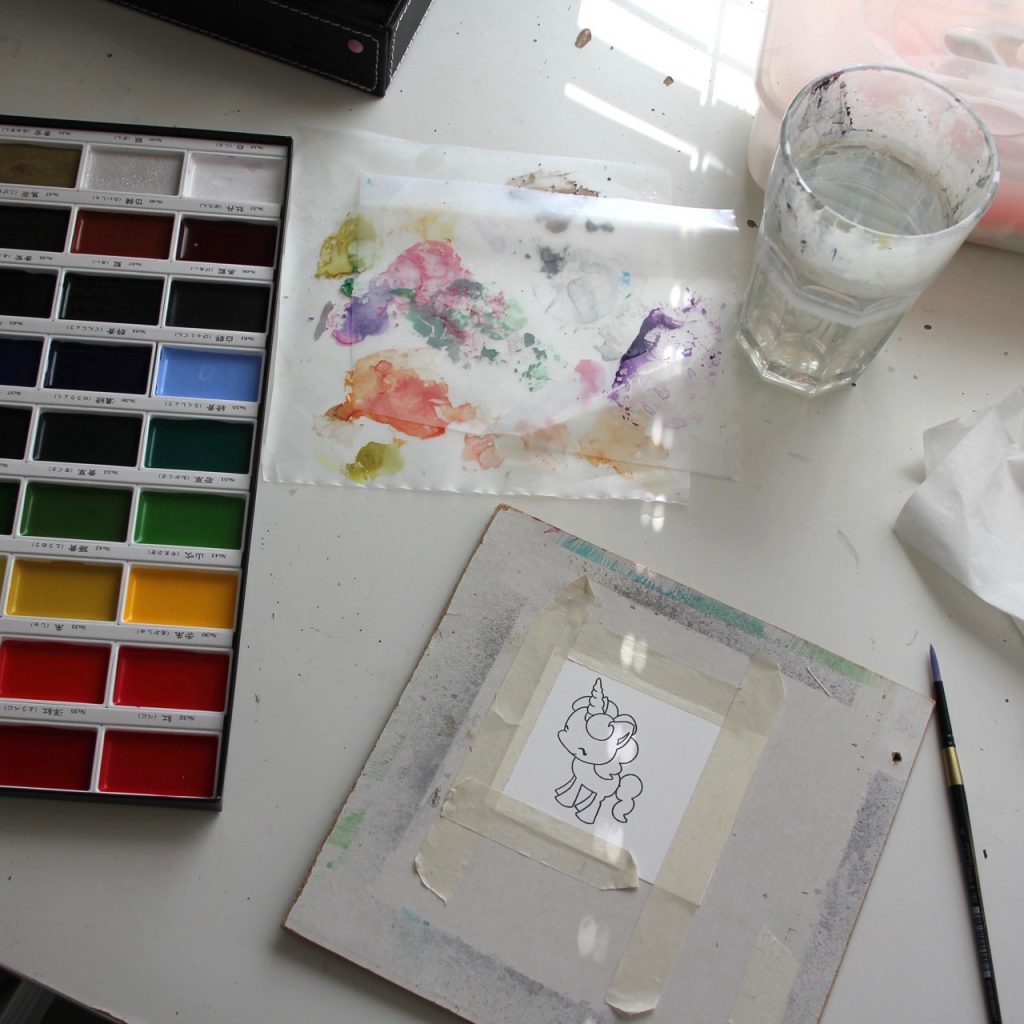 I can take off the box separate colours.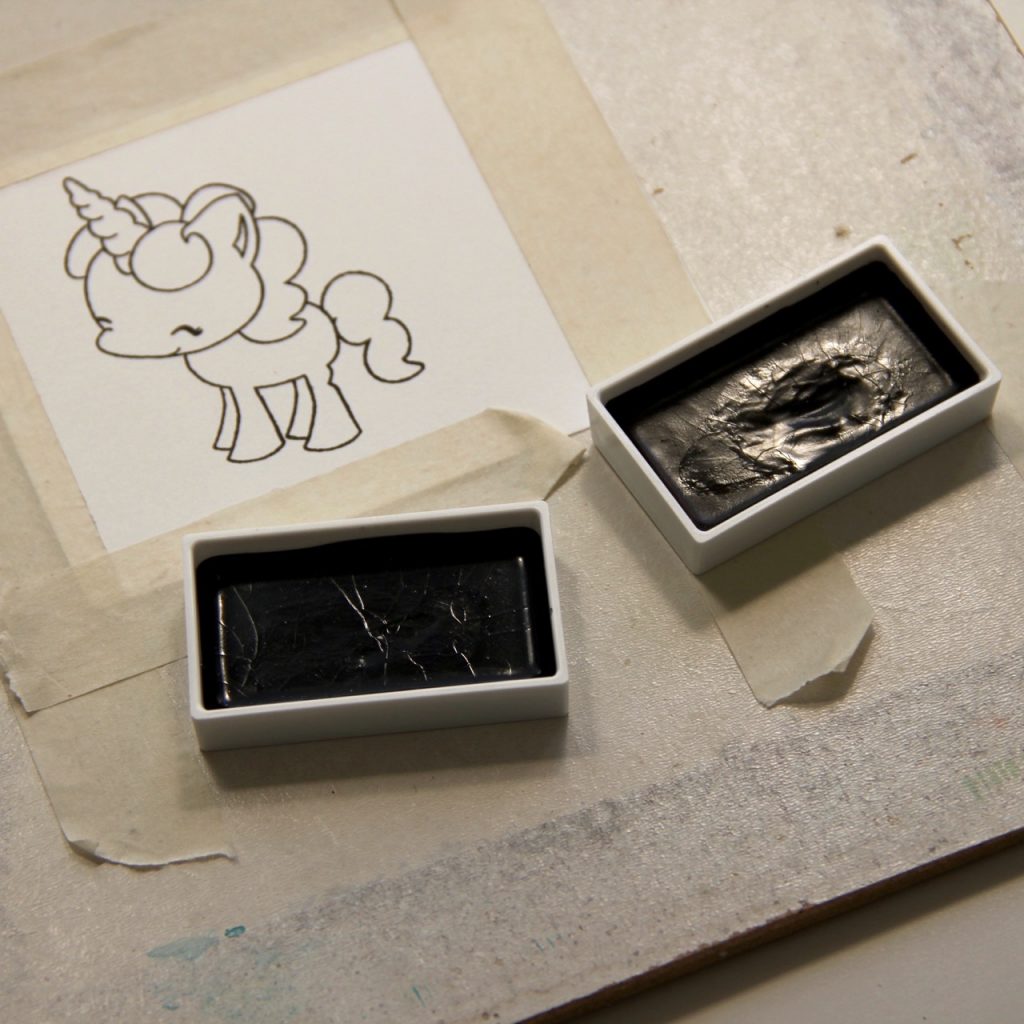 Here is one photo during colouring. I you are not patient and you do not want to wait till your coloured layer is dry, you can use heat gun. But very softly you can move colours on place where you do not want to have it. Pigment is moving in water when you are heating it.
It is better to start lightly and than move to darker colours. Or another method is to wet image and than touch it slightly with brush or as by watercolour pencils start moving colours from the darker part to lighter.
Again you can watch watercoloring on Youtube, there are many good artist showing their art and it is really interesting.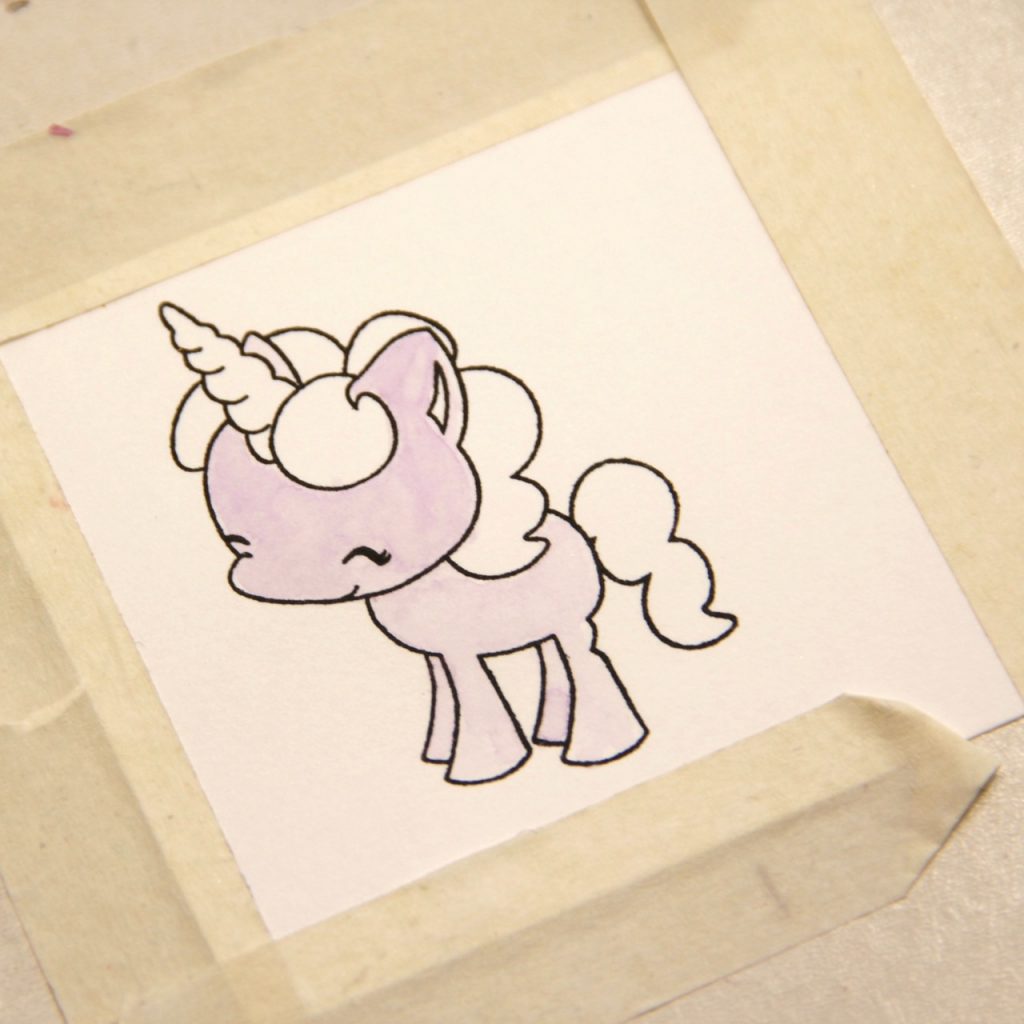 Watercolours is great medium for colouring. You can have with it really fun and create very nice images.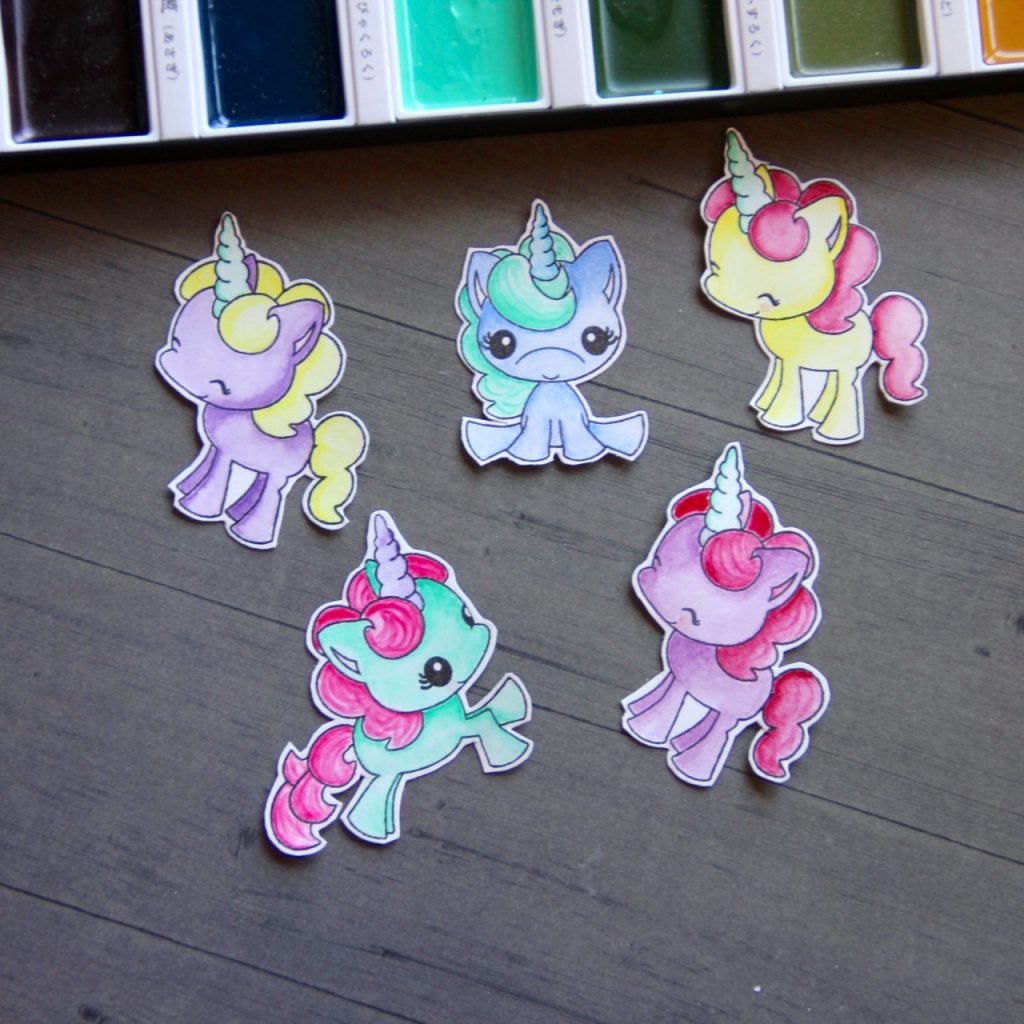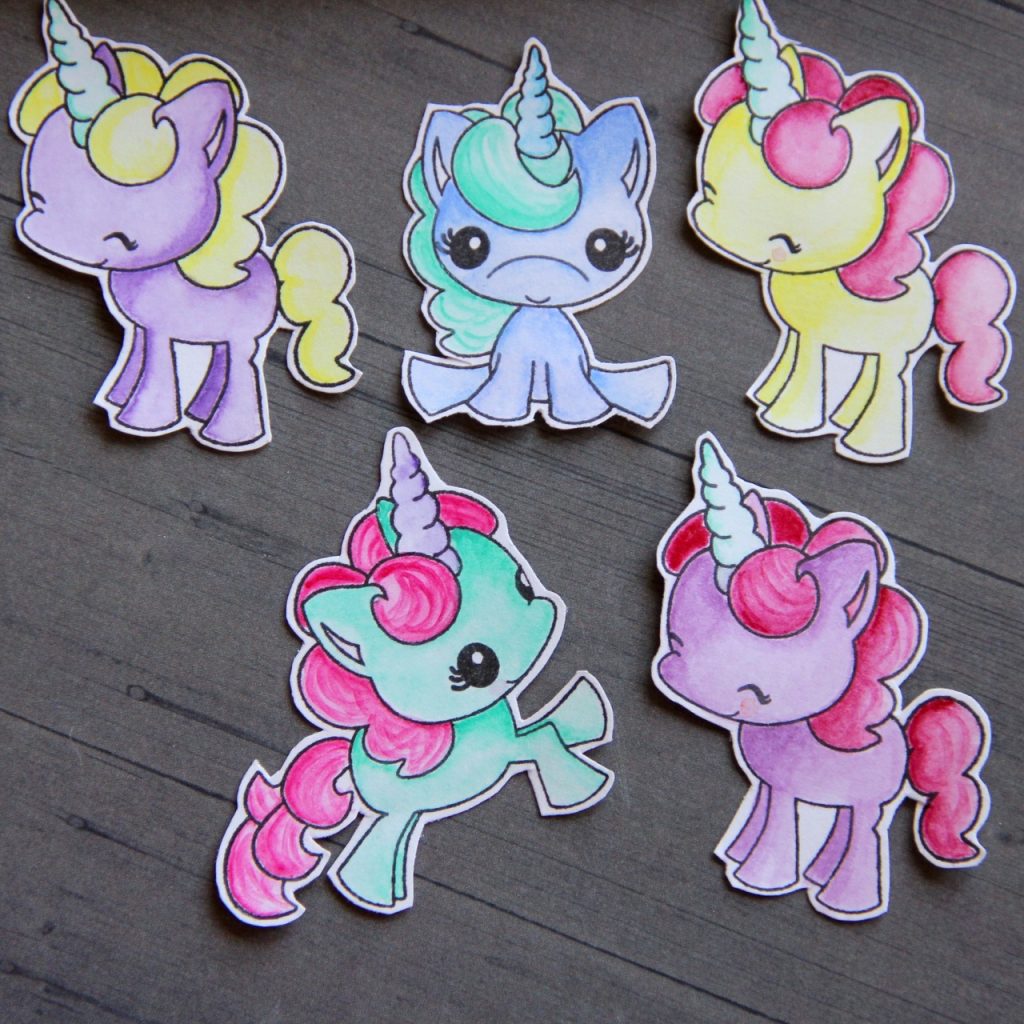 I hope you liked my article, next time I will speak about alcohol markers.
Kate