Welcome to our brand new blog! Since launching the company on March 1st, I have wanted to get our blog up and running and I am happy to say, I can mark it off my long to-do list today! Wa-hoo! I want to thank you for stopping by and I hope you do so frequently to get some great crafty inspiration, to keep up with current events with Pink and Main, and to perhaps enjoy some creative life musings.
Since it is the Easter weekend, I would love to share a couple of Easter themed cards I made using the 'Hoppy Easter' and 'Egg-stra Special Ewe' stamp sets.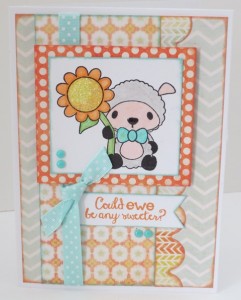 I love the colors of these cards and the combinations of oranges and blues. I colored the images in with my colored pencils and blended them with Gamsol (odorless mineral spirit) to give a soft, watercolor effect.
I hope you have a wonderful Easter!
-Michelle, living the creative life!