Hello, friends!  It's Andrea with you sharing some Thanksgiving table decorations using the new Quilt Square 1 and Gift Bag Dies.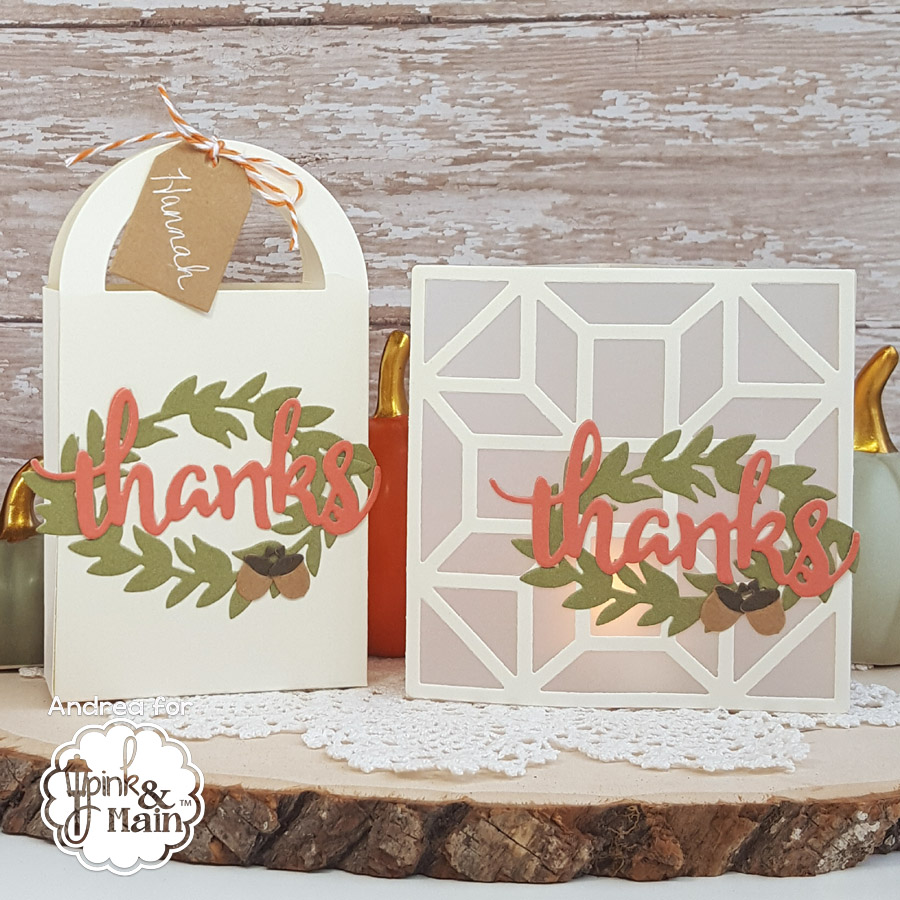 I started by creating the lantern with the Quilt Square 1 Die.  I die-cut three quilt squares from ivory cardstock and backed them with vellum squares.  To connect the squares together, I cut strips of ivory cardstock 4″ (the height of the squares) by 1/4″, scored them at 1/8″, and adhered them to the backs of the squares with liquid adhesive.  I found it easier to score all of the strips while they were attached and then cut them apart.  The picture below shows a side-view of the lantern, allowing you to see where the squares are joined.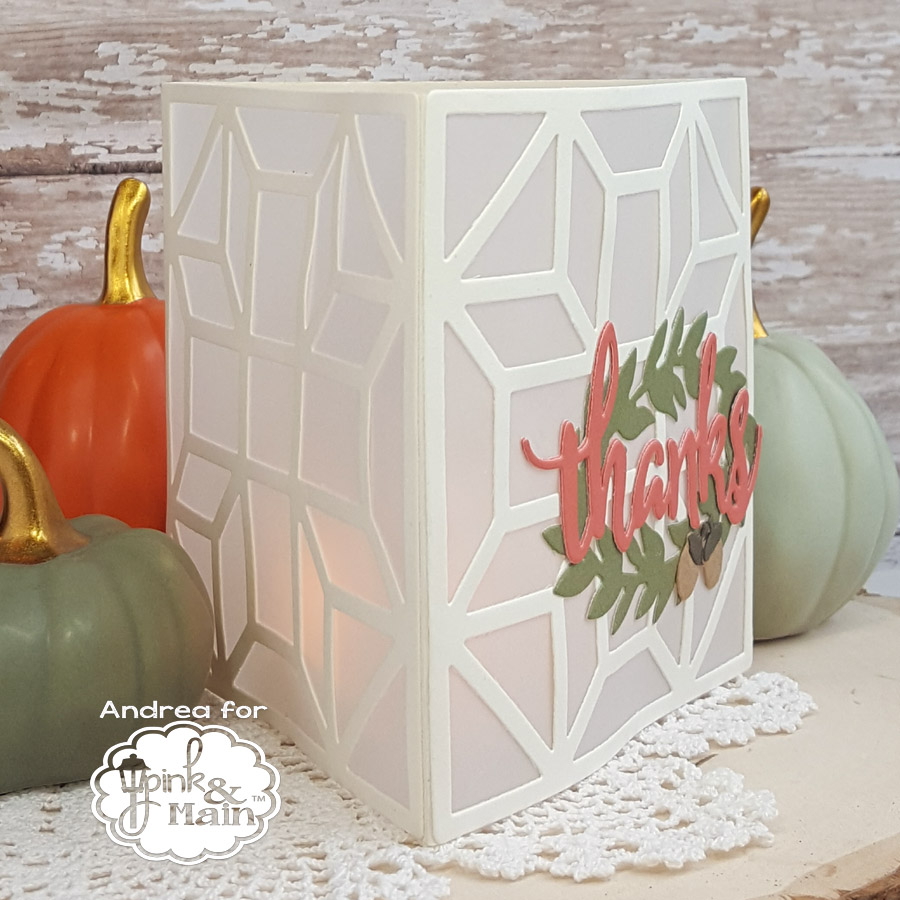 If you'd like to make your lanterns larger to accommodate a bigger candle, you can connect four squares together.  I used a small tea light candle in the lantern while photographing, and I noticed some slight warping in the vellum.  You may want to use a battery-powered tea light for safety reasons or make a larger lantern that allows the heat to disperse more.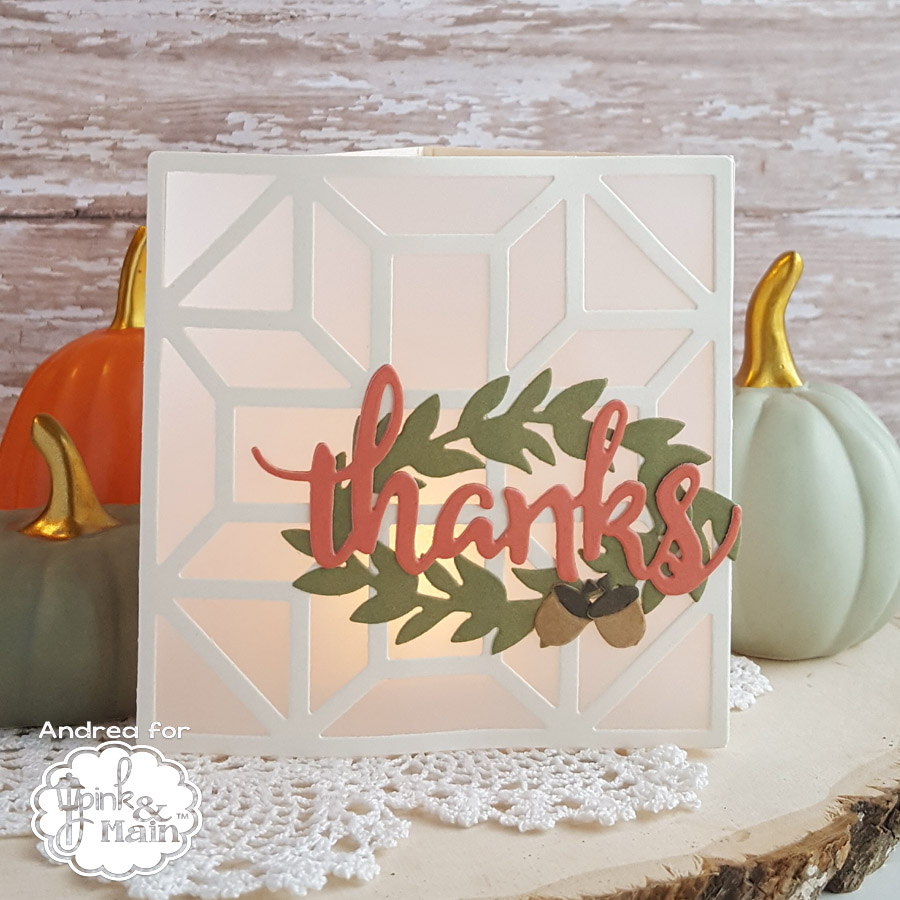 I only decorated one of the panels, but you could certainly decorate all sides of the lantern if you wish.  I die-cut the Thanks Die from orange cardstock twice and layered the die-cuts together.  Using the Wreath Base Die, I die-cut a green wreath, trimmed it to create two pieces that framed my die-cut word and adhered them to my lantern, slightly overlapping the ends.  With the Fall Wreath Decor Dies, I die-cut two acorns from kraft and brown cardstock.  I trimmed the caps from the brown acorns and adhered them to the kraft acorns.  I attached my die-cut word and acorns to the wreath with liquid adhesive.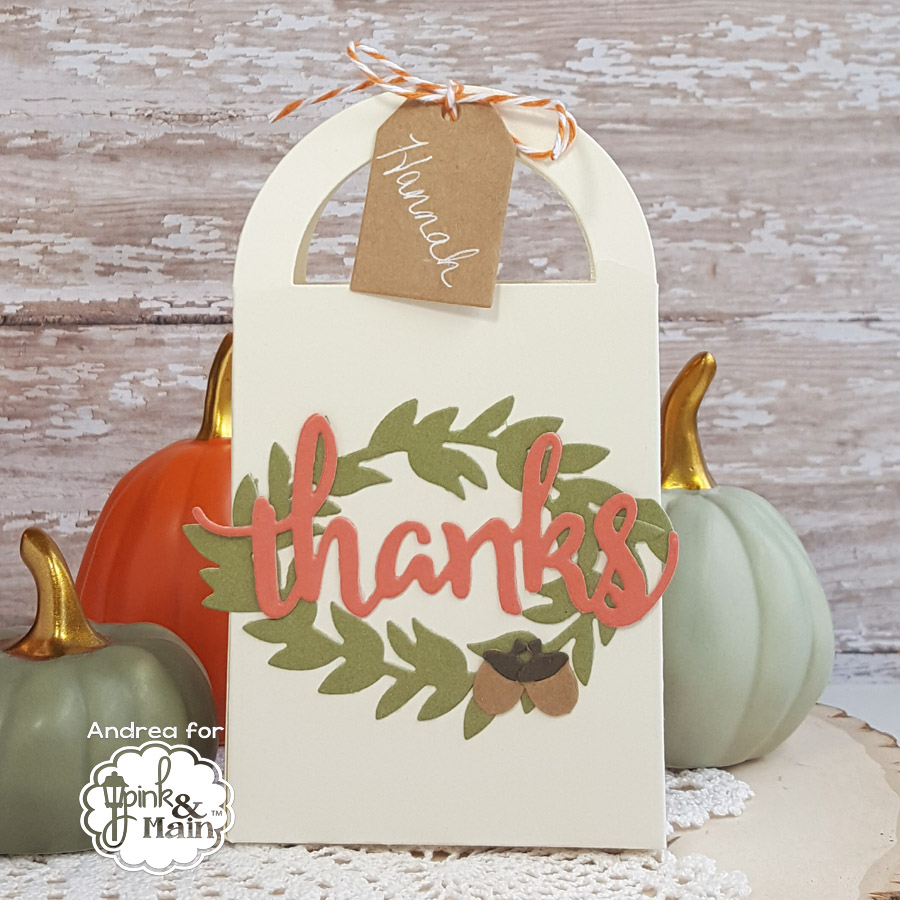 I die-cut the bag shape from the Gift Bag Dies twice and used ScorTape on the tabs to adhere the two pieces together.  I decorated the bag the same way as the lantern.  With the tag from the Gift Tag Dies, I die-cut a tag from kraft paper and attached it to my bag with twine.  With the tag, the gift bag is a perfect stand-in for place cards and allows me to leave each guest a little treat to take home.
I hope I've inspired you to look at your dies in new ways!  While I kept my lantern and bag clean and simple, you can easily change out the colors and embellishments to make these items work for any occasion.  Have a great day!