Hi everybody! Donna here. Are you loving the January release as much as I am? I have a couple of couples to share with you today. One of my cards is based on a scene from E.T., a movie which completely traumatised me as a kid. (It still would now actually – I'm such a baby when it comes to movies!)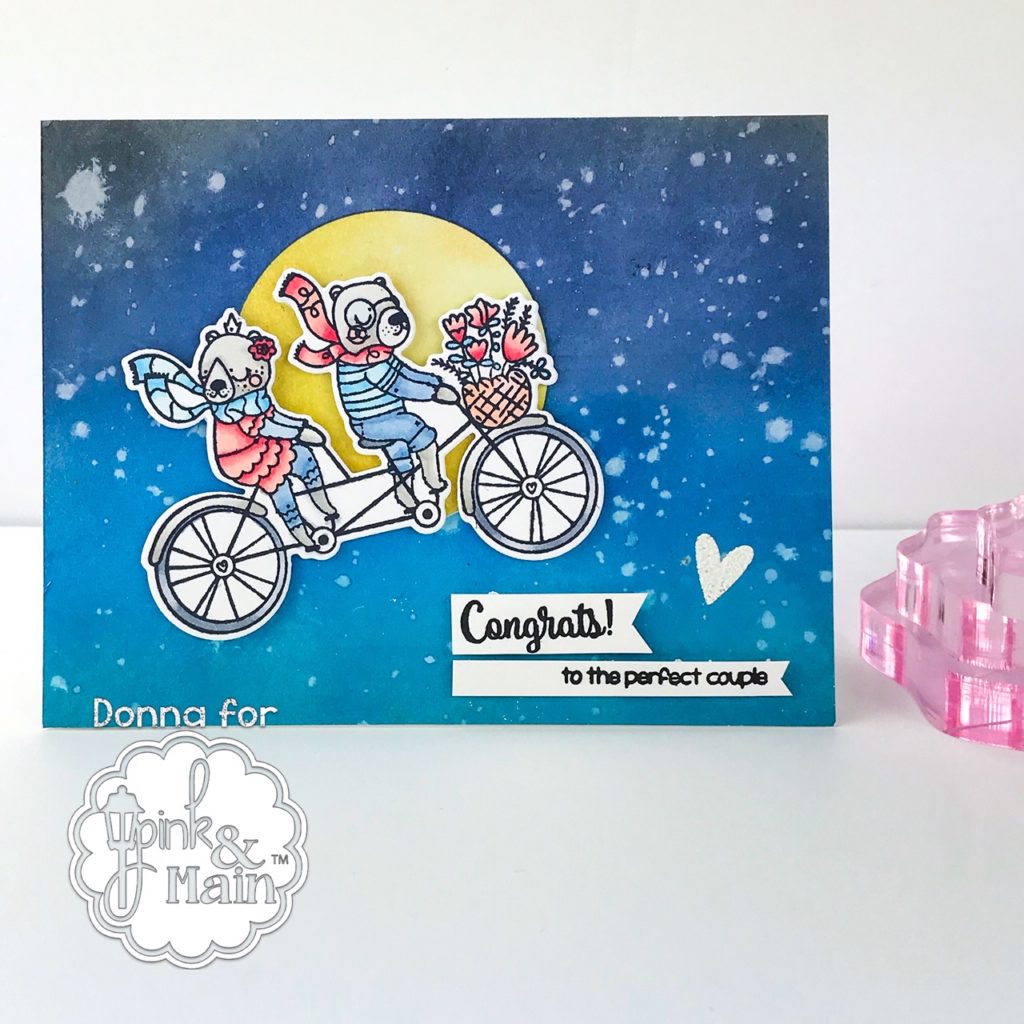 Both cards use images and sentiments from the soon to be released "Perfect Couple" stamp set. I love the size of these images- they make great focal points. I also used similar Copic colours to colour both images, sticking to more pastel colours. The main difference is in the backgrounds.
For the background on this first card, I die cut a circle from low tack paper (like one ginormous Post It note) I used first the surrounding negative space as a mask to ink blend in the moon, using a mix of Distress Oxide yellows for interest. Once that was done, (once that was dry would have been a great start to that sentence- do as I say, not as I do!) I removed the negative space, and covered my moon with the die cut circle. I then used a mix of blues, purples and black to create a night sky. Once again using Distress Oxides, I blended from lightest at the bottom to darkest at the top. I spattered a bunch of water onto the card and dried it off with paper towel to make the starry sky.
One a separate note, when I saw the face on the girl, I couldn't help but think to myself, "She's wondering whether she left the oven on!" Such a cute face! Maybe she's just alarmed at the heights that the bike ride has reached. As someone that uses a bike for all my transport, I know I would be!
The second card is a real blast from the past. I was experimenting with ink smooshing techniques, something I haven't done since I first started back into cardmaking about three years ago. I had forgotten how much fun it was to watch those inks slip and slide around on the watercolour paper.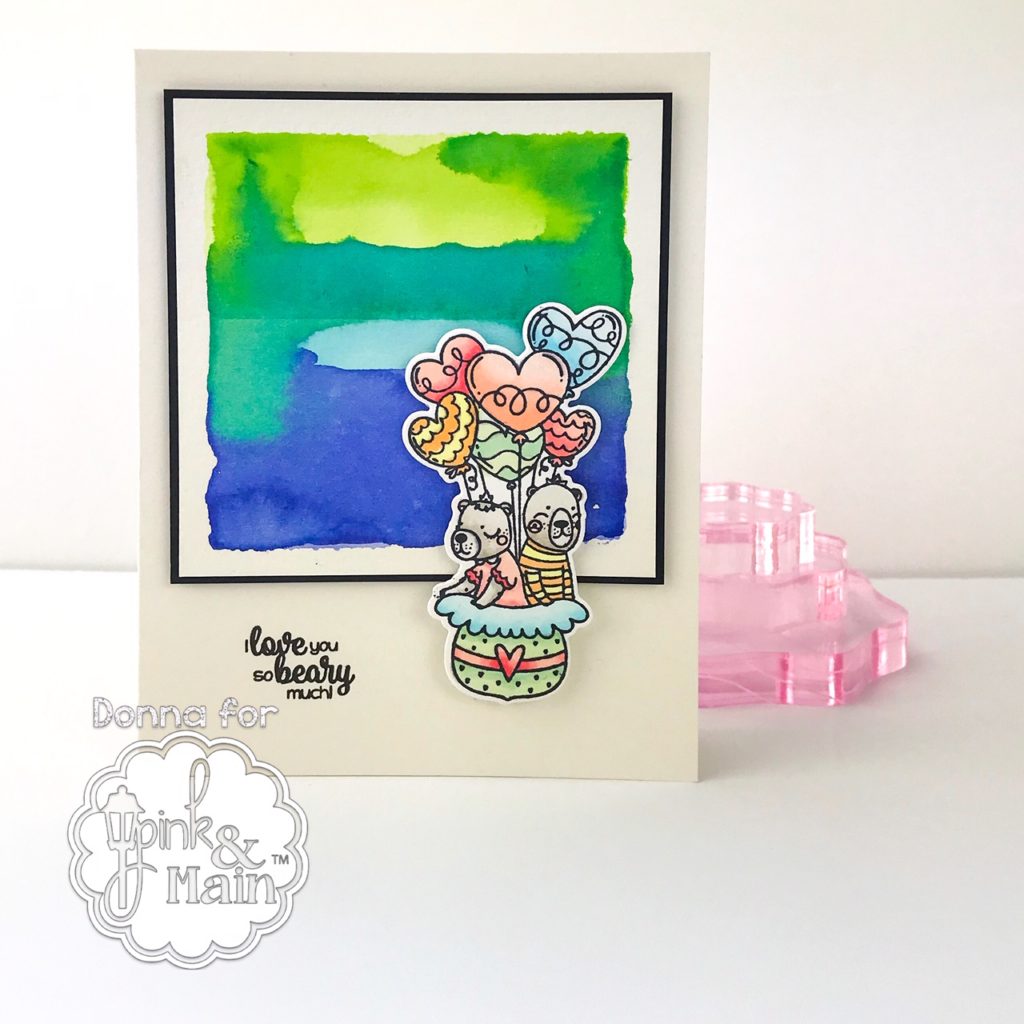 I cut the watercolour panel to a square and backed it with black paper to give some definition to the panel. I popped this watercolour piece up with foam tape onto some not-quite-white paper, to match the hues in the watercolor paper.
And….. What is that lovely pink pile behind the card? The most adorable stamping blocks from Pink and Main! They even managed to push my signature teacups out of the picture! I'm in love with the shape, size and colour of these beauties. I don't traditionally use stamping blocks often, but suddenly I'm finding myself reaching for them often. I think the grid lines on the blocks and the fabulous shape have a lot to do with that!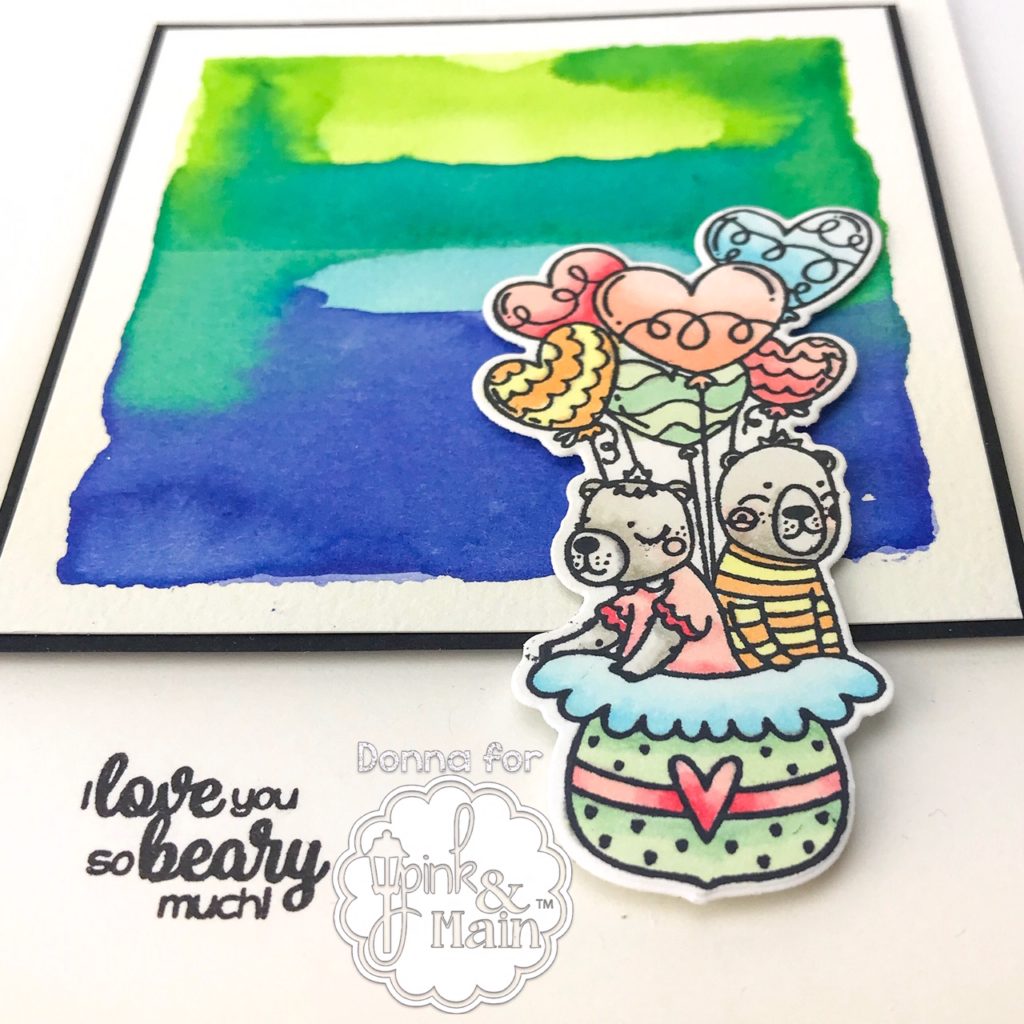 It's lovely to revisit some techniques that I haven't used for a while. I hope you've been encouraged to get creating, and that you find some crafty time this weekend.
Until next time,
Blessings,